INTRODUCTION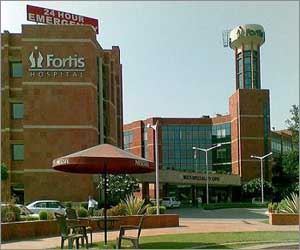 Dr. Raman Goel is associated with Fortis Hospital
Pioneer in Bariatric Surgery for safer care of your dear ones. Over the past 20 years Dr Ramen Goel is dedicated to provide wide range of surgeries through advanced laparoscopic techniques.
Dr. Ramen Goel, MS, FICS(USA) a highly trained gastro-intestinal surgeon with 20 years of experience, is amongst the pioneers of bariatric surgery in India. Started laparoscopy surgery in 1992 & has performed thousands of basic & advanced laparoscopic procedures. He performed first gastric band & banded gastric bypass (Fobi pouch) surgery in India. He performs Laparoscopic Roux-n-y Gastric Bypass, Lap Gastric Band, Lap Sleeve Gastrectomy, Endoscopic Gastric Balloon etc routinely. He is also performing Lap Ileal Interposition Surgery for treatment of Type 2 Diabetes Mellitus as a part of a clinical trial. Scores of surgical postgraduate aspirants have trained under him & occupy senior surgical posts around the world. Recognising his surgical expertise & experience, he was conferred the Fellow of Surgery by International College of Surgeons, Chicago, USA in 1999. He is invited faculty at Ethicon Institute of Surgical Education at Mumbai to train practicing surgeons in India.
Clinical Posts
Hon. Laparoscopy & Obesity Surgeon, Bombay Hospital & Medical Research Centre, Mumbai, India

Hon. Laparoscopy & Bariatric Surgeon - Bariatric Surgery Centre, Fortis Hospitals, Mulund, Mumbai

Ex-Hon. Associate Professor of Surgery, Grant Medical College & J J Group of Hospitals, Mumbai, India.
Training Received
Surgical Postgraduate from J N Medical College, AMU, Aligarh - adjudged the best candidate.

Diploma(I) from Postgraduate Medical Institute, University of Wien, Austria

Bariatric Surgery at Lyon (France), Laussane, Switzerland (USA).

Metabolic Srgery with Dr. Aureode Paula at Goiania (Brazil).

Completed Preceptorship of American Bariatric Surgical Society with Dr Mal Fobi at LA, USA
Bariatric Surgical Experience
Vertical Banded Gastroplasty

Gastric Banding

Gastric Bypass

Banded Gastric Bypass(Fobi Pouch)

Intra-gastric Balloon (BIB)
Metabolic Surgical Experience
Ileal Transposition with Sleeve Gastrectomy (SGIT)
Laparoscopic Surgical Experience (in addition to lap bariatric procedures)
Lap Cholecystectomy

Lap Fundoplication for hiatal hernia

Lap Appendicectomy

Lap Rectopexy for rectal prolapse

Lap Colectomy

Lap Gastric surgeries

Lap Bowel surgeries

Lap Urology surgeries

Lap Gynecology surgeries
Ex-President :
All India Association for Advancing Research in Obesity
Member of
International Federation for Surgery of Obesity(IFSO)

Obesity Surgery Society of India

Governing Council International Association for Study of Obesity

Steering Committee Education & Management Task Force
Organising Chairman
Obesity - 2005 - International Bariatric Surgical Conference at Mumbai, India in 2005.
Co-Chairman
Asia Pacific Obesity Congress February 2009, Mumbai, India.
Others
Invited Faculty Speaker at many international & national bariatric surgical meetings.

Has contributed chapters in various books on obesity surgery.
Research Experience
Original Research Paper published by Springer in 'International Journal for Diabetes in Developing Countries'

Selected amongst Best 5 papers at IFSO-APC meeting at Rusutsu, Japan in 2011

Paper presentations at 2nd World Congress on International Therapies for Type 2 Diabetes at New York in 2011 & Annual Conference of ASMBS at Las Vegas in 2010

Conducting 1st Clinical Trial in India on Ileal interposition Surgery for Type 2 Diabetes Mellitus (registered with Indian Council for Medical Research)
OUR GROUP BRANDS