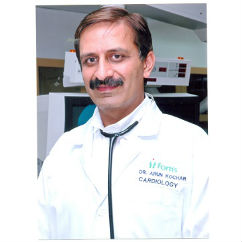 0 Comments
December 5, 2016
by newThemeHospital
Dr. Arun Kochar
MD
Cardiology
Contact Number: +91-9370586696
Dr. Arun Kochar, MD
14+ Years Of Experience
Senior Consultant – Fortis Hospital, Mohali
Cardiology
Qualifications
MD – March 1993 to April 1996 (L.L.R.M. Medical College, Meerut University)
DM –  January 1998 to August 2000 (K.G.M.C, Lucknow University)
DNB – January 1998 to January 2001(National board of examinations, New Delhi)
MBBS – April 1985 to June 1990 (L.L.R.M. Medical College, Meerut University)
Previous Experience
August 2002 to Present – Working as Consultant in Interventional Cardiology at Fortis Hospital Mohali and independently looking after the Cardiology Department at INSCOL Hospital, Chandigarh.
August 2000 to August 2002 – Worked as Consultant Cardiologist at Kamineni Hospital, Hyderabad.
Certifications and fellowships/Research Papers: DM, DNB.
Attended a number of National and International Conferences.
Attended training for left main PTCA at Tokyo and Peripheral Angioplasty at Kuala Lampur.
Memberships
Awards and Accolades
Best Paper Presentation, CSI, 2005
View Profile
Area of Expertise:
Exclusive Radial Interventions, Nuclear cardiology, Preventive cardiology
Research and Publications:
The Bermuda Triangle: Hypertension, Diabetes Mellitus and Nephropathy, Narain VS, Kochar A, Gupta R, Puri VK.
Indian Heart J. 2000 May-Jun;52(3):346-50. No abstract available.
PMID:
10976162
[PubMed – indexed for MEDLINE]
Related citations
Renoprotection with angiotensin type-1 receptor blockers in hypertension.
Narain VS, Kochar A.
Indian Heart J. 2000 Jan-Feb;52(1):89-92. No abstract available.
PMID:
10820943
[PubMed – indexed for MEDLINE
Short-term (48 hours) versus long-term (7 days) antibiotic prophylaxis for permanent pacemaker implantation.
Dwivedi SK, Saran RK, Khera P, Tripathi N, Kochar AK, Narain VS, Puri VK.
Indian Heart J. 2001 Nov-Dec;53(6):740-2.
PMID:
11838927
[PubMed – indexed for MEDLINE]
Medical Breakthroughs/ Interesting Case Studies: Pioneer of Radial Interventions