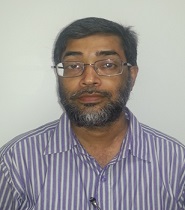 0 Comments
December 7, 2016
by newThemeHospital
Dr. Haque
Md. Azizul, DM
Cardiology
Contact Number: +91-9370586696
Dr. Haque Md. Azizul, DM
12+ Years Of Experience
Consultant – Fortis Hospital Anandapur, Kolkata
Cardiology
Qualifications
Cardiac EP Fellowship from National Yang-Ming University, Taipei veterans general Hospital. Taiwan.
D .M. [ Cardiology] 3. M.D. [General Medicine]
View Profile
Dr. Md. Azizul Haque is a Consultant Interventional Cardiologist and Cardiac Electrophysiologist.
He was an Assistant Professor of Cardiology , Institute of post-graduate Medical Education & Research, Kolkata.
He is a member of Cardiological Society of India, Indian Heart Rhythm Society, Association of Physicians of India and Acute Cardiovascular Care Association [ European society of Cardiology].
His clinical interest are Cardiac Electrophysiology.