Consult Dr Anil Bhan
Best Cardiac Surgeon
Medanta Hospital Gurgaon Delhi
Vice Chairman Cardiac Surgery , Heart Institute
Consultation Form
Dr. Anil Bhan
E-mail & Appointment
Dr. Anil Bhan, Best Cardiac Surgeon in Gurgaon, India
Book Immediate Appointment at Email ID dr.anilbhan@indiacardiacsurgerysite.com
Number For Fast Track Query Reply
+91 - 9765025331
Dr. Anil Bhan is the Vice Chairman Cardiac Surgery Heart Institute Medanta Hospital, Gurugram, India. Being a graduate from Medical College Srinagar and the best outgoing graduate Gold Medalist, he is the top cardiovascular surgeon in India. The Best Cardiac Surgeon in Gurgaon possesses largest experience in Aortic surgery in India since he has designed and developed more than 50 surgical instruments in the field of cardiac surgery. Read Dr. Anil Bhan Reviews to know more about the Cardiologist in India. Fill the free consultation form to book your appointment with the Cardiothoracic and Cardiovascular Surgery at Medanta Hospital, Gurgaon.
He was one of the team members to perform the first successful Heart Transplantation in India, 1994. Best Surgeon for Valve Replacement Surgery in India has been associated with starting the three cardiac surgical programmes at Putta-parthi, 1992, Whitefield, 2001 and Max Heart and Vascular Institute, Saket, 2004. The Best Surgeon for Valve Replacement Surgery in India has performed more than 15,000 cardiac and vascular procedures with excellent outcomes, matching with the best in the world. Get in touch with us to consult Dr Anil Bhan contact number & Email Address.
Medical Qualifications
MBBS from the Government Medical College, Srinagar, 1981
MS (General Surgery) from the POSTGRADUATE INSTITUTE OF MEDICAL EDUCATION AND RESEARCH, CHANDIGARH, 1984
MCh (Cardio Thoracic and Vascular Surgery) from All India Institute of Medical Sciences, New Delhi, 1988
Specializations and Expertise
Aortic aneurysm surgery
Valve repairs
Pediatric cardiac surgery
Peripheral Vascular Surgery
Dr. Anil Bhan's Association with Medanta Hospital, Gurgaon
The Division of Cardiac Surgery at Medanta, Gurgaon aspires to reduce the deadly consequences of cardiovascular diseases through innovative therapies for patient care. Our team of 30 cardiac surgeons have a cumulative experience of 4,000 surgeries under the leadership of Dr Naresh Trehan who is world renowned for his expertise in performing various complex heart surgeries. We have 9 dedicated operation theatres with world class infrastructure and our Cardiac Surgery team brings the promise of unparalleled excellence in patient care, education and research. Book Online Appointment with the best cardiologist in Medanta by sending your query to the contact details given on our website.
Video
Dr. Anil Bhan, Vice Chairman, Cardiac Surgery, Heart Institute at Medanta Hospital, Gurgaon talks about the aortic aneurysm surgery.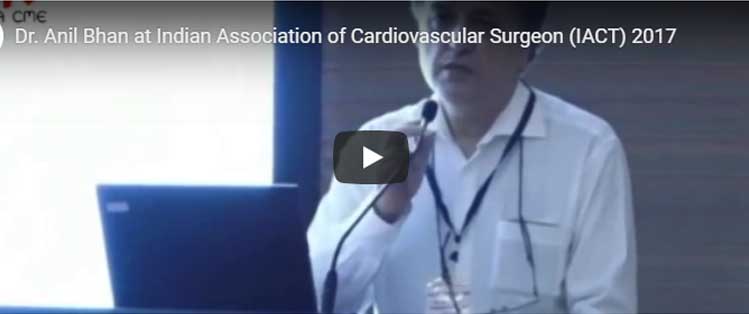 Doctor Experience
Senior Director - Cardiac Surgery at Medanta The Medicity Since February 2008, 2008-Present
Director And Chief Coordinator Cardio thoracic And Vascular Surgery at Max Heart and Vascular Institute, Saket, New Delhi, 2004-2008
Faculty Member at All India Institute of Medical Sciences, New Delhi, 1992-2004
Memberships & Certifications
Member Cardiothoracic Surgical Network (USA)
Member Delhi Chapter of CSI
Life Member of Pediatric Cardiac Society of India
Life Member, Indian Association of Cardiovascular and Thoracic Surgeons
E-mail & Appointment
Dr. Anil Bhan, Best Cardiac Surgeon in Gurgaon, India
Book Immediate Appointment at Email ID dr.anilbhan@indiacardiacsurgerysite.com
Number For Fast Track Query Reply
+91 - 9765025331
Awards and Accomplishments
Delivered the prestigious P.K. Sen Oration at the CT Conference, 2009
At the age of 18 months carried out the youngest bypass in the world literature with coronary aneurysm repair, 2007
First extra corporeal membrane oxygenation (ECMO) in India, 2000
First time harmonic scalpel for the harvest of radial/internal mammary artery conduits in India, 1995
Publications
Journal of Thoracic and Cardiovascular Surgery- USA: Performed total arterial revascularization on youngest patient in world literature, 2005
Indian Heart Journal: Published one of the largest experiences of arterial switch procedure for transposition of great arteries, 2002
Journal of Thoracic and Cardiovascular Surgery-USA: Described a new operative technique for coarctation of aortic with type-B aortic dissection, 2002
Annals of Thoracic Surgery (USA) accredited by Medtronic: Reports on angiographic follow-up of OPCAB (Beating Heart CABG) from India, 2000
Annals of Thoracic Surgery-USA: Third report in the world literature on radial artery angiographic follow up, 1999
Annals of thoracic surgery-USA: Described a new – operative technique for repair of supra-cardiac total anomalous pulmonary venous drainage, 1996
Consulting Address of Dr Anil Bhan Global Medanta Heart Institute Gurugram
Tags
Dr. Anil Bhan Vice Chairman Cardiac Surgery Heart Institute Medanta Hospital Gurugram, Best Cardiac Surgeon in Gurgaon, Top Cardiovascular Surgeon in Gurugram Cardiologist in India, Cardiothoracic and Cardiovascular Surgery at Medanta Hospital, Gurgaon, Best Surgeon for Valve Replacement Surgery in India, Dr Anil Bhan review, Consult Dr Anil Bhan contact number & Email Address,Book Online Appointment with the best cardiologist in Medanta