Consult Dr Anoop K Ganjoo
Best Cardiologist Cardio Thoracic Surgeon
Apollo Hospital Delhi
Cardio Thoracic & Vascular Surgery Heart Institutes
CONSULTATION FORM
Dr Anoop K Ganjoo

E-mail & Appointment
Dr. Anoop K. Ganjoo, Best Cardiologist & CardioThoracic Surgeon, India
Book Immediate Appointment at Email ID dr.anoopk@indiacardiacsurgerysite.com
Number For Fast Track Query Reply
+91 - 9765025331
Dr. Anoop K. Ganjoo is a cardiothoracic surgeon at Cardiothoracic & Vascular Surgery, Apollo Hospitals, Delhi. The Best Cardiologist and Cardio Thoracic Surgeon at Apollo Hospitals, Delhi has pioneered in many complicated procedures in cardiology and cardiac interventions. With over two decades of rich professional experience in his field, Dr. Anoop K. Ganjoo Cardio Thoracic Surgeon India has treated several patients in India and gives every patient the best of medical care. To contact the Cardiologist in Delhi, get in touch with us through the contact details given on our website.
Cardiac Surgeon at Apollo Hospitals Delhi, India specialises in various complicated procedures such as Peripheral and Coronary angiography & angioplasty, ICD, Pacemaker, Radiofrequency ablation of arrhythmias, CRT implantation, Adult ASD, Balloon valvuloplasty, PDA device closure, VSD. He has published several papers in India and abroad and is a member of prestigious medical associations. Dr. Ganjoo believes in promoting health awareness and following a healthy lifestyle. Being a committed doctor, he has undergone specialized training programs and has attended many conferences held across the country. His compassionate patient care and lifestyle advocacy has helped several patients to recover from various disorders. Send us your query to book Appointment with best cardio thoracic surgeon in India via Email Address.
Education
MBBS from All India Institute of Medical Sciences (AIIMS), New Delhi, 1979
General Surgery Residency at AIIMS, 1980-83
Cardiothoracic Surgery Residency, AIIMS, 1984-87
Specializations
Adult congenital heart disease
Mitral Valve Repair
Adult cardiothoracic surgery
Echocardiography
Atrial fibrillation
Redo surgery
CABG in diffuse CAD
Cardiothoracic surgery
Dr. Anoop K. Ganjoo's Association with Apollo Hospitals, Delhi
Founded in 1996, the cardio thoracic and vascular surgery department at Apollo Hospitals, Delhi is recognized as the major cardiothoracic surgery units of North India. Our division has contributed over 20,000 cardiac surgeries encompassing the entire spectrum of surgical treatment of heart diseases, be it intracardiac repairs of congenital heart defects, coronary artery bypass, aortic aneurysm repairs, valvular heart disease. Our excellent post operative intensive care which turns out world class success rates sets our department apart. So far the overall success rate of the surgeries done is over 98% and this includes emergency procedures, complicated aneurysm repairs, complex repairs of congenital defects as well as the large number of coronary artery bypass, simpler congenital defects and valve replacements. Fill the free consultation form on our website to fix an appointment with Cardiac Surgeon at Apollo Hospitals Delhi, India.
Our team of cardiac surgeons provide the best cardiac surgical treatments to the patient at par with international standards. Our division extends its services to significant number of international patients from Afghanistan, Iraq, Bangladesh, Pakistan, Ethiopia, Nepal, Sri Lanka, Nigeria, the UK, the USA, and Europe. To get a fast track query reply consult Cardiac Surgeon Dr. Anoop K. Ganjoo Contact Number given on our website.
Patient Experience
Mrs. Fetal Walk, a 64 year old patient from Ethiopia needed a replacement for two of her cardiac valves. After controlling all risk factors the surgery was done by Dr. Anoop K. Ganjoo. The surgery was a success and a week later she was discharged from the hospital.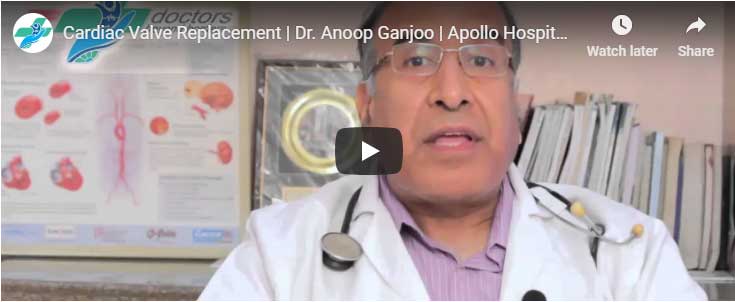 Doctor Experience
Consultant at Apollo Hospital, Delhi, Present
Consultat at Batra Hospital, 2002-2003
Consultat at National Heart Institute, 1999-2002
Consultant at St.Stephen's Hosp. 1997-2002
Cardiac Surgery Fellow with Dr. W. Dudley Johnson, Milwaukee, 1994-96
Associate Prof. at SGPGIMS, Lucknow, 1993-97
Assistant Prof. at Sanjay Gandhi Postgraduate Institute of Medical Sciences, Lucknow, 1989-93
Lecturer at Govt. Medical College & Wanless Hospital, Miraj, 1988-89
Research Associate at Trivandrum (SCTIMST) & Safdarjang Hospital, New Delhi, 1987-88
Memberships
Member of Society of Thoracic surgeons (USA)
Member of Cardiological society of India
Fellow of Indian Association of Cardiovascular surgeons
E-mail & Appointment
Dr. Anoop K. Ganjoo, Best Cardiologist & CardioThoracic Surgeon, India
Book Immediate Appointment at Email ID dr.anoopk@indiacardiacsurgerysite.com
Number For Fast Track Query Reply
+91 - 9765025331
Video
Dr. Anoop Ganjoo at Apollo Hospitals, Delhi answers the questions you have before CABG.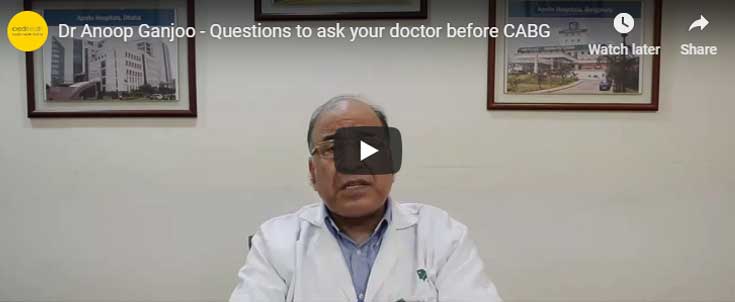 Publications
VK Gupta, AK Ganjoo & J Thomas. An unusual foreign body in oesophagus. Indian J Surgery 1992;54:230,
S Shah, A Shah, E Bhatia & AK Ganjoo. Addisonian crisis following pericardiectomy. Cardiovascular Surgery. 1994;2:646–8
Google Map Location
Consulting Address of Dr Anoop K Ganjoo : Apollo Hospital
Indraprastha Apollo Hospitals Delhi, Delhi Mathura Road, Sarita Vihar, Jasola, New Delhi, Delhi 110076
Tags
Dr. Anoop K. Ganjoo Cardio Thoracic Surgeon India, Dr. Anoop K. Ganjoo Cardiothoracic surgeon at Apollo Hospitals Delhi, Dr. Anoop K. Ganjoo Cardiologist in Delhi, Best Cardio vascular Surgeon at Apollo Hospitals Delhi, Cardiac Surgeon at Apollo Hospitals Delhi, Dr. Anoop K. Ganjoo Cardio Vascular surgeon in India, Dr. Anoop K. Ganjoo Email Address, Consult Cardiac Surgeon Dr. Anoop K. Ganjoo Contact Number