Consult Dr Girinath M R
Best Cardiac Surgeon Apollo Hospital Chennai
Cardiothoracic Surgery Head of Cardiac Surgery Unit
CONSULTATION FORM
Dr Girinath M R
E-mail & Appointment
Dr. Girinath M R, Best Cardio Thoracic Surgeon, India
Book Immediate Appointment at Email ID
dr.girinath@indiacardiacsurgerysite.com
Number For Fast Track Query Reply
+91 - 9765025331
Dr. M. R. Girinath is a Cardiothoracic Surgeon at Apollo Hospitals Chennai with a prior work experience of 45 years including 3 years of working in Auckland. He is the head of Cardiac surgery unit of Apollo hospitals, Chennai since 1984. Under the guidance of Dr Girinath M R Cardio Thoracic Surgeon in Chennai, the unit has done 40,000 heart operations of which 29,000 have been coronary bypass operations including 14,000 on a beating heart. The Cardiovascular surgeon at Apollo Hospitals, Chennai has pioneered congenital heart surgery and heart valve surgery in India and trained 30 heart surgeons in India. The Cardiothoracic Surgery specialist in Chennai has performed over 25,000 open heart surgeries in the last 16 years. Get in touch with us toconsult Apollo Hospital Chennai Cardiology doctor via Dr M R Girinath contact details.
The Best Cardiac Surgeon India is one of the first surgeons to receive MCh degree in India and a pioneer in cardiac surgery for infants, coronary bypass surgery, multivalve replacement and cardiac transplantation. Cardiac Specialist in Chennai has presentated over 275 papers at national and international conderences and participated in the first multi-organ transplant in India (Heart, Liver, Kidneys and Cornea). Dr. Girinath has made around 20 orations and has been a member of various prestigious groups. To get a fast track query reply, book Online Appointment with best cardiologist in Chennai.
Education & Training
MBBS from Madras University, Chennai, India, 1963
MS (General Surgery) from the All India Institute of Medical Sciences, New Delhi, 1966
MCh (Cardio Thoracic Surgery) from the All India Institute of Medical Sciences, New Delhi, 1969
Specializations
Cardiothoracic surgery
Mitral/Heart Valve Replacement
Coronary Angioplasty / Bypass Surgery
Intra - Arterial Thrombolysis
Radial Approach Angiography
Cardiac pacing
Balloon Mitral Valvuloplasty
Invasive cardiac
Pacemaker implantation
Invasive Cardiac
Association of Dr. Girinath M R with Apollo Hospitals, Chennai
The Apollo Heart Institutes performs a multitude of treatments and procedures in cardiology and cardiothoracic surgery and hence regarded as one of the best heart hospitals in India. Our scorecard shows an unmatched record of over 1, 52,000 cardiac and cardiothoracic surgeries. Our team of cardiothoracic surgeons and cardiologists are trained at the top institutes in India and abroad. They are completely dedicated to the treatment for coronary heart diseases. Apollo Hospitals has a team led by the best cardiologists in India. Our pioneering work for the prevention and treatment of cardiac diseases has led to the achievement of better outcomes and improved quality of life for thousands of cardiac patients who visit us each year with complex heart problems. Our advanced infrastructure supports the complex nature of cardiac care which supports our experienced cardiologists and post-operative care teams at Apollo Hospitals, Chennai. To know more about Dr MR Girinath profile, get in touch with us.
Doctor Experience
Consultant at Apollo Hospitals, Chennai since last assignment, 2005- Present
Certifications and Memberships
FRACS (Fellow of the Royal Australasian College of Surgeons), Melbourne.
Tamil Nadu Medical Council
FLACS (Fellow of the Indian Association of Thoracic and Cardiovascular Surgery), 1995.
E-mail & Appointment
Dr. Girinath M R, Best Cardio Thoracic Surgeon, India
Book Immediate Appointment at Email ID
dr.girinath@indiacardiacsurgerysite.com
Number For Fast Track Query Reply
+91 - 9765025331
Video
Dr. Girinath M. R. the legendary chief cardiovascular and thoracic surgeon at Apollo Hospitals, Chennai talks about how to be healthy and fit forever on the eve of Doctors's Day message to the people of India.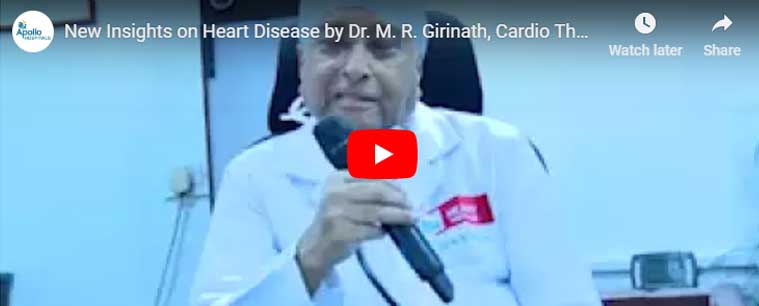 Awards and Achievements
Dr. B C Roy National Award, 1997
Padma Bhushan, 1998
D.Sc. (Hon Causa) Dr. M G R Medical University, 2002
LIFE TIME Achievement Award Indian Association Cardio Vasular Thoracic Surgeons Has headed the cardiac surgery unit of Apollo Hospitals, Chennai, 1984.
First surgeon to obtain the MCH degree in Cardio Vascular Surgery in India, 1969- a pioneer in cardiac surgery for infants, coronary bypass surgery, multivalve replacement and cardiac transplantation.
Pioneered congenital Heart Surgery and Heart Valve Surgery in India.
Has 45 years of expierence standing in Cardiac Surgery Performed nearly 25, 000 open-heart operations in the last 16 years.
Helped Heart Surgery units in Sri Lanka, Mauritius, Bangla Desh and several centres in India such as at Ahmedabad, Nagpur and Bhopal.
Trained over 20 surgeons who, together, perform 20% of the cardiac surgeries done in the country today.
Participated in the first multi-organ transplant in India (Heart, Liver, Kidney and Cornea).
Been at the forefront in establishing coronary bypass surgery as a standardized and safe procedure in India (thus reversing the trend of patients going abroad for this facility).
First to apply heart, lung machine-supported Coronary Angioplasty in India.
First surgeon to repair a complex congenital heart defect in a child below one year.
Paper Presentations
Presented over 275 papers at national and international conferences and made around 20 orations including the Subroto Memorial Oration and the Sadasivan Oration
Google Map Location
Consulting Address of Dr Girinath M R : Apollo Hospital
3, Playground St, Kilpauk Garden Colony, Kilpauk, Chennai, Tamil Nadu 600010
Tags
Dr. M. R. Girinath, Dr. M. R. Girinath Cardiothoracic Surgeon at Apollo Hospital Chennai, Dr Girinath M R Cardio Thoracic Surgeon in Chennai, Cardiovascular surgeon at Apollo Hospital Chennai, Cardiothoracic Surgery specialist in Chennai, Best Cardiac Surgeon India, Cardiac Specialist in Chennai, Dr MR Girinath profile, Cardiology doctor Dr M R Girinath contact details, Dr. M. R. Girinath Email Address, Dr. M. R. Girinath Phone Number