What is the Cost of Adult Off Pump Heart Surgery with Top Hospitals and Top Surgeons in India
The cost of the Adult Off Pump Heart Surgery in India is typically a fraction of the cost for the same procedure and care in the US and other developed countries.
The cost can vary as per the diagnosis and conditions of the patients along with the facilities availed.
And if you compare the same with developed nations, the cost for these treatments is often the double than what you find in India.
Various deciding factors could determine the price of Adult Off pump Heart Surgery in India. These can be broadly classified as Hospital, Medical Team or Patient Dependent factors.
Hospital Factors
Type of the hospital (Government/Trust/Private).
Use of insurance, type of insurance or self paid.
Accreditation of the facility
Reputation and brand value of the hospital.
Medical Team Factors
Technology / Approach Used
Surgery Type
Type of Anesthesia or Sedation
Qualification / Expertise of the specialist
Extent of the surgery needed
Patient Factors
Patient's diagnosis
Patient's general health
Room Category selected by the patient
Other treatment required by the patient in conjunction
Are you looking for affordable cost of Off Pump Heart Surgery in Top Hospitals of India?
Please enquire with us, Get a "No Obligation Quote"
Check out the Patient Testimonial, where the patient shares about their success stories from treatments through India Cardiac Surgery Consultants.
What is Off Pump Heart Surgery?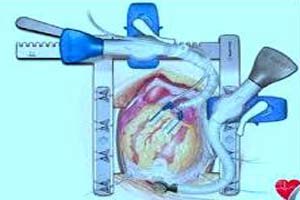 The off pump heart surgery, also known as "beating heart bypass surgery", is like a traditional open-heart surgery where the chest bone is opened to access the heart.
However, during this surgery your heart isn't stopped and a heart-lung bypass machine isn't used.
Your surgeon will steady your heart with a mechanical device so that he or she can work on it. Your heart will continue to pump the blood to your body.
Who would be a suitable candidate for Off Pump Heart Surgery?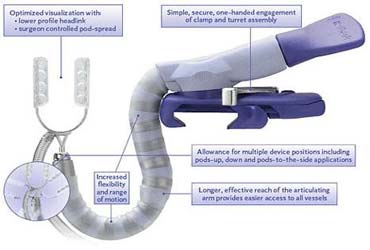 All patients requiring bypass grafts alone are considered as potential candidates for off pump heart surgery.
The off pump techniques are often used for the patients having complications that put them at risk if they use the traditional heart-lung machine method for the bypass surgery.
Patients who have a single vessel disease.
Who have undergone a conventional bypass surgery and now have recurring or new blockages in the grafts.
Who are a new candidate for angioplasty or if the patient has recurrent problems after a previously successful angioplasty.
Patients who have medical problems like decreased heart function or a history of stroke or pulmonary disease.
Patients who require a less invasive form of surgery.
What should you expect before an Off Pump Heart CABG?
Before you undergo an Off Pump Heart CABG  your Doctor will ask you to undergo the following tests:
Physical exam
Echocardiogram
Cardiac catherization
Chest X-ray
Electrocardiogram (ECG)
How is an Off Pump Heart Surgery performed?
AN OFF PUMP HEART SURGERY BEING PERFORMED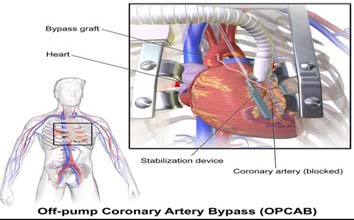 During the off pump heart surgery in India, a heart positioned and a tissue stabilizer is used which allows the surgeon to position the heart for accessing the blocked coronary artery and hold a portion of the heart still, such that the graft can be sewn in place.
With the beating heart surgery, your heart should function normally during the surgery and therefore this surgery typically does not require the use of the heart-lung machine.
Newer technologies allow the surgeons to stabilize a specific part of the heart, instead of the whole heart muscle.
While the surgeon works on the controlled part of the heart the rest of the organ continues to function.
All arteries can be bypassed with this method.
What should you expect after undergoing Off Pump Heart Surgery?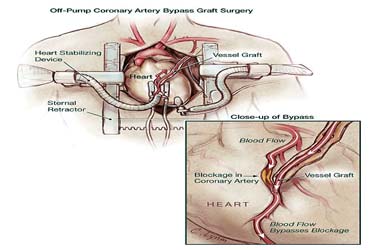 Immediately after the procedure, you will be monitored in the ICU (Intensive Care Unit), where you will have the following interventions :
Pacing wires to control the heartbeat.
Heart monitor.
Breathing tube or an oxygen mask.
Tubes connected to a machine to drain the fluids from the wound.
A catheter inserted into the bladder.
What are the Benefits of undergoing of Off Pump Heart Surgery?
The potential benefits of the off pump heart surgery are :
No complications related to using a heart-lung bypass machine
Faster recovery from the surgery
Reduced mortality rates compared to the on-pump heart surgery
Shorter hospital stay post surgery
Fewer heart rhythm problems
Are you looking for any assistance to plan your Off Pump Heart surgery in India?
Get in touch with us to get a free consultation and guidance towards your treatment planning by contacting us online.
How effective is an Off Pump Heart Surgery?
Off pump heart surgery or the beating heart bypass surgery is a safe and effective option to the conventional bypass surgery.
Performing surgery on a beating heart eliminates the need for a heart-lung bypass machine which result in fewer side effects.
Why Choosing Off Pump Heart Surgery is necessary?
Choosing off pump heart surgery is necessary to improve or get complete relief from the symptoms for several years.
Patients undergoing off pump heart surgery may recover more quickly.
Also the patients undergoing beating heart surgery will have fewer post-operative complications.
Why Choose an Indian Hospital for your Off Pump Heart Surgery?
Indian hospitals are now at the same technological level as the hospital in America and Europe.
Indian hospitals have an experienced medical staff, ensuring advanced clinical care to the international patients looking for the off pump heart surgery.
Availability of the non-invasive investigations like the Doppler, ECG, Stress echo, echocardiography and Holter test.
Fully equipped ICU and recovery rooms
State of the art equipments
Modern infrastructure
Support of the latest technology
Ms. Ruby Henry from Mexico shares her experience of getting off Pump Heart Surgery done in India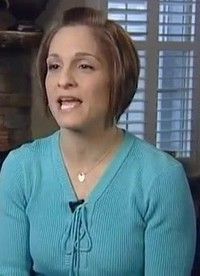 Ms. Ruby Henry from Mexico
When I was to undergo an off pump heart surgery, my son and my dad actually interviewed four cardio specialists and after healthy discussions, they decided to go with the one of the most reputed cardio specialists from the India Cardiac Surgery group. The time and care that the cardio surgeon spent on me made me feel very confident and optimistic. I just can't speak enough of my satisfied and positive experience with this group.
How many patients underwent Off Pump Heart Surgery in India in the last 5 years?
In recent years, India has emerged as a medical hub for patients looking for affordable, accessible and efficient low cost Off Pump Heart Surgery.
This emergence is primarily due to the development of state-of-the-art private and public sector healthcare facilities, medical insurance and the ease of access to quality healthcare services. An average increase of 15 to 20 percent annually has been observed in the number of patients in the last 5 years.
Planning Affordable Off Pump Heart Surgery in India is an easy process.
Our Hospitals Network and Surgery Group are available in 15 cities of India for our patients to access. Kindly fill up the form for a free opinion from our expert cardiology team. You will be provided with an analysis and recommendations for your surgery.NO CHARGES LEVIED.
Special ALL SERVICES INCLUSIVE Packages available for INTERNATIONAL PATIENTS
What are the services offered to our International patients?
Planning your surgery : From getting your reports reviewed by Doctor to making arrangements for your accommodation once you arrive in India.
On call consultation with your surgeon : Arranging for a tele-call with your surgeon so that you can have a detailed discussion over your treatment plan.
Continuous Assistance and Support : Our Executive will continuously stay in touch with you and provide you with all the relevant information and process to be followed.
Travel Documents/ Visa Process : Our Executive will provide you with all the information required for you to travel to India i.e Vaccinations, Visa documents etc.
Recommendations of Hotels and Guest House : recommendation of hotels offering 2 star services to 5 star services for your stay in the city as per your budget and preference will be sent to you so that you can choose accordingly.
Ground Transportation : Arranging for your Airport pick up and Drop.
Regional Translators : Availabilty of regional translators 24*7 so that language should not be a barrier in your medical trip to India.
Arranging for a local contact number.
Follow Up : Our executive will constantly stay in touch with us even after you land in your country.
Listen to the Voices of Our Happy Patients
Why the International Patients Trust us?
Being India's first government recognized Medical Value Provider; we have the best facilities in India which are worldly recognized and a team of surgeons with an international reputation.
We are a reliable medical group, helping International patients with affordable low cost treatment, best treatment facility with International Health Standards and a friendly seamless atmosphere. To get in touch with us now
Why choosing India Cardiac Surgery Team for your Off Pump Heart Surgery is the right decision to make?
Your Medical Trip is planned by a well experienced and qualified team of Relationship Executives.
Affordable surgery packages offered to you.
Patient reports are viewed by Medical Experts who are highly reputed, Qualified and have an experience of 20 years and above to their credit.
Your safety and care is the top most priority for us in planning your medical trip.
Hospitals with the best amenities and expert medical care are recommended.
Treatments are available for all age groups from and infant to a elderly person.
Different types of treatment offered under 1 shelter, so that apart from your specific surgery you could also seek treatment for any other ailment as well.
Discounted surgery packages and Health plans for you.
Recommendations of surgeons who are USA and UK qualified with International exposure.
Recommendations of only NABH accredited Hospitals with well equipped and Hi-tech technology labs and well qualified employees.
Who Are The Top 20 Surgeons Performing Off Pump Heart Surgery In India?
DR. NARESH TREHAN
DR. RAJESH SHARMA
DR. ALI ZAMIR KHAN
DR. NANDKISHORE KAPADIA
DR. AMAR NATH GHOSH
DR. SARAJIT KUMAR DAS
DR. K M MANDANA
DR. MADAN KUMAR K
DR. K R BALAKRISNAN
DR. BASHI V VELAYUDHAN

DR. Z S MEHARWAL
DR. RAJU VYAS
DR. MANOJ P NAIR
DR. Y K MISHRA
DR. BHABA NANDA DAS
DR. T. S. KLER
DR. PAWAN ZUTSHI
DR. RITESH SANGURI
DR. SATBIR SINGH
DR. SHILPI MOHAN
Which Are The Top 20 Hospitals Where Off Pump Heart Surgery Is Performed?
FORTIS ESCORTS HOSPITAL, NEW DELHI
ASIAN HEART INSTITUTE,MUMBAI
APOLLO HOSPITAL,CHENNAI
FORTIS ESCORTS HOSPITAL, BANGALORE
ARTEMIS HOSPITAL, GURGAON
MEDANTA HOSPITAL, NEW DELHI
MAX SUPER SPCIALITY HOSPITAL, NEW DELHI
FORTIS MEMORIAL RESEARCH INSTITUTE GURGAON.
INDRAPRASTHA APOLLO HOSPITAL, NEW DELHI
BLK SUPER SPECIALITY HOSPITAL, NEW DELHI

GLOBAL HOSPITAL,CHENNAI
SHARDA HOSPITAL,DELHI
PARAS HOSPITAL, GURGAON
NANAVATI HOSPITAL,MUMBAI
MANIPAL HOSPITAL,BANGALORE
THE WOCKHARDT HEART INSTITUTE, MUMBAI
NARAYANA HOSPITAL,BANGALORE.
RUBY HALL, PUNE
FORTIS HOSPITAL, KOLKATA
CONTINENTAL INSTITUTE OF CARDIOVASCULAR SCIENCES, HYDERABAD
Get a free consultation with our Surgeon for your Off Pump Heart Surgery
Kindly fill up the form for a free consultation with our surgeons
After thorough analysis of the reports and medical history, you will be provided with the advised clinical opinion and suggestions regarding your Off pump Heart Surgery from our experts.
Related Pages
Tags
Affordable Off Pump Heart Surgery in India, Low Cost Off Pump Heart Surgery in India, Off Pump Heart Surgery Cost in India, Off Pump Open Heart Surgery in India, Off-Pump Heart Surgery in India,Best Cardiac Surgeon for Off pump Heart Surgery in India, Senior Surgeon for Off pump Heart Surgery, Best Hospitals for Off pump Heart Surgery in India, Best Cardiac Hospitals in India for Off Pump Surgery, off Pump Heart Surgery Experience in India