What is the Cost of Coronary Angiography Test with Top Hospitals and Top Surgeons in India?
The average cost of the Coronary Angiography Test is very high in western countries.
India is known worldwide for its advanced medical facilities and promising technology for Coronary Angiography Test. Many of the best hospitals for Coronary Angiography Test can be found in India.
Coronary Angiography Test cost in India is much less when compared to any other countries. Also the cost of Coronary Angiography Test in India is substantially lower than other developed countries of the world.
Various deciding factors could determine the price of Coronary Angiography Test in India. These can be broadly classified as Hospital, Medical Team or Patient Dependent factors.
Hospital Factors
Type of the hospital (Government/Trust/Private).
Use of insurance, type of insurance or self paid.
Accreditation of the facility
Reputation and brand value of the hospital.
Medical Team Factors
Technology / Approach Used
Surgery Type
Type of Anesthesia or Sedation
Qualification / Expertise of the specialist
Extent of the surgery needed
Patient Factors
Patient's diagnosis
Patient's general health
Room Category selected by the patient
Other treatment required by the patient in conjunction
The LIST of AVERAGE COST of the Coronary Angiography Test across TOP 15 cities in India in Indian Rupee (INR) is as follows :
| | | | |
| --- | --- | --- | --- |
| City | Lowest Cost | Average Cost | Highest Cost |
| New Delhi | 15,000 | 25,000 | 45,000 |
| Mumbai | 20,000 | 35,000 | 60,000 |
| Chennai | 17,000 | 28,000 | 48,000 |
| Bangalore | 18,000 | 30,000 | 50,000 |
| Hyderabad | 20,000 | 35,000 | 60,000 |
| Ahmedabad | 25,000 | 45,000 | 65,000 |
| Nagpur | 12,000 | 20,000 | 35,000 |
| Kolkata | 25,000 | 45,000 | 65,000 |
| Pune | 20,000 | 35,000 | 60,000 |
| Gurgoan / Gurugram | 15,000 | 25,000 | 45,000 |
| Chandigarh | 20,000 | 35,000 | 60,000 |
| Jaipur | 17,000 | 28,000 | 48,000 |
| Noida | 15,000 | 25,000 | 45,000 |
| Kerala | 18,000 | 30,000 | 50,000 |
| Goa | 25,000 | 45,000 | 65,000 |
We have 75+ TOP Surgeons for Coronary Angiograpghy Test across 25+ major cities in our PAN INDIA NETWORK. Connect with us and you will get multiple recommendations of BEST Surgeons from TOP Hospital across India for Coronary Angiograpghy Test.
Contact Us for a FREE No Obligation Quote & Opinion for Coronary Angiography Test in India
Our Hospitals Network and Surgery Group are available in 15 cities of India for our patients to access. Kindly fill up the form for a free opinion from our expert team. We shall get you a Free, No Obligation Opinion from India's best Surgeons and best Hospitals in India. NO CHARGES LEVIED.
Special ALL SERVICES INCLUSIVE Packages available for INTERNATIONAL PATIENTS
What is Coronary Angiograpghy Test?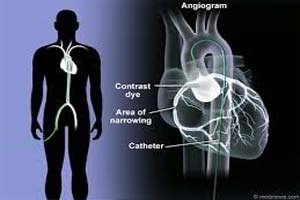 Coronary Angiography test in India is a medical imaging technique in which an X-ray image is taken to visualize the inside of blood vessles and organs of the body.
An angiogram of the heart, a coronary angiogram, is the "gold standard" for the evaluation of coronary artery disease (CAD)
How is a Coronary Angiogram performed?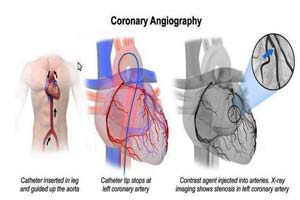 Depending on the type of angiogram, access to the blood vessels is gained most commonly through the Femoral artery, to look at the left side of the heart and the arterial system or the Jugular or Femoral vein, to look at the right side of the heart and the venous system.
Using a system of Guide wires and Catheters, a type of Contrast agent (which shows up by absorbing the x-rays), is added to the blood to make it visible on the x-ray images.
The X-ray images taken may either be still images, displayed on an image intensifier or film, or motion images.
For all structures except the heart, the images are usually taken using a technique called Digital Subtraction Angiography (DSA). Images in this case are usually taken at 2 – 3 frames per second, which allows the radiologist to evaluate the flow of the blood through a vessel or vessels.
This technique subtracts the bones and other organs so only the vessels filled with contrast agent can be seen. The heart images are taken at 15-30 frames per second, not using a subtraction technique. Because DSA requires the patient to remain motionless, it cannot be used on the heart. Both these techniques enable the radiologist or cardiologist to see stenoses (blockages or narrowings) inside the vessel which may be inhibiting the flow of blood and causing pain.
What are the uses of Coronary Angiography?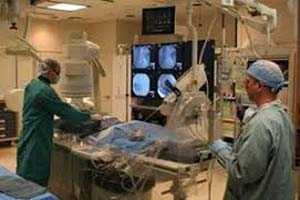 One of most common angiograms performed is to visualize the blood in the coronary arteries.
A long, thin, flexible tube called a catheter is used to administer the x-ray contrast agent at the desired area to be visualized.
The catheter is threaded into an artery in the groin or forearm, and the tip is advanced through the arterial system into one of the two major coronary arteries.
X-ray images of the transient hiradiocontrast distribution within the blood flowing within the coronary arteries allows visualization of the size of the artery openings. Presence or absence of atherosclerosis or atheroma within the walls of the arteries cannot be clearly determined.
What are the uses of Peripheral Angiography?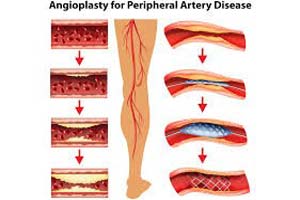 Angiography is also commonly performed to identify vessel narrowing in patients with leg claudication or cramps, caused by reduced blood flow down the legs and to the feet; in patients with renal stenosis (which commonly causes high blood pressure) and can be used in the head to find and repair stroke.
These are all done routinely through the femoral artery, but can also be performed through the brachial or axillary (arm) artery.
Any stenosis found may be treated by the use of Angioplasty
What is Intravenous Digital Subtraction Angiography?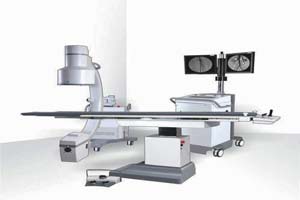 Intravenous digital subtraction angiography (IV-DSA) is a form of angiography test in India which was first developed in the late 1970s.
IV-DSA uses a computer technique which compares an x-ray image of a region of the body before and after radiopaque iodine based dye has been injected intravenously into the body.
Tissues and blood vessels on the first image are digitally subtracted from the second image, leaving a clear picture of the artery which can then be studied independently and in isolation from the rest of the body.
Some studies have indicated that IV-DSA is not suitable for patients with diabetes or renal insufficiency because the dye load is significantly higher than is used in arteriography.
However, IV-DSA has been used successfully to study the vessels of the brain and heart and has helped detect carotid artery obstruction and to map patterns of cerebral blood flow.
It also helps detect and diagnose lesions in the carotid arteries which is a potential cause of strokes.
IV-DSA has also been useful in assessing patients prior to surgery and after coronary artery bypass surgery and some transplant operations.
How many patients underwent Coronary Angiography Test in India in the last 5 years?
Some of the most coveted Coronary Angiography Test hospitals in the world are found in India. The country is known for offering advanced medical facilities at the most reasonable cost. The best Coronary Angiography Test hospitals in India have a comprehensive solution for the most critical cases.
Early diagnosis, surgery or treatment helps to enhance the chances of a successful outcome.
An average increase of 15 to 20 percent annually has been observed in the number of patients in the last 5 years.
The Indian Coronary Angiography Test hospitals deliver advanced health care and highest quality services backed by elaborate infrastructure and lower treatment cost.
Besides, India produces best quality medicines, drugs, and consumables for health care at almost one-tenth of the price as is in the developed nations.
Here are the approximate figures of the patients underwent Coronary Angiography Test in the last 5 years in India :
Are you looking for affordable cost of Coronary Angiography Test in Top Hospitals of India?
Please consult us to get FREE Quotes, Opinions from TOP Hospitals and BEST Surgeons of India for Coronary Angiography Test.
What are the services offered to our International patients?
Planning your surgery : From getting your reports reviewed by Doctor to making arrangements for your accommodation once you arrive in India.
On call consultation with your surgeon : Arranging for a tele-call with your surgeon so that you can have a detailed discussion over your treatment plan.
Continuous Assistance and Support : Our Executive will continuously stay in touch with you and provide you with all the relevant information and process to be followed.
Travel Documents/ Visa Process: Our Executive will provide you with all the information required for you to travel to India i.e Vaccinations, Visa documents etc.
Recommendations of Hotels and Guest House: recommendation of hotels offering 2 star services to 5 star services for your stay in the city as per your budget and preference will be sent to you so that you can choose accordingly.
Ground Transportation : Arranging for your Airport pick up and Drop.
Regional Translators : Availabilty of regional translators 24*7 so that language should not be a barrier in your medical trip to India.
Arranging for a local contact number.
Follow Up: Our executive will constantly stay in touch with us even after you land in your country.
Listen to the Voices of Our Happy Patients
Ms. Irene Wright from Canada shares her experience of Coronary Angiograpghy Test done in India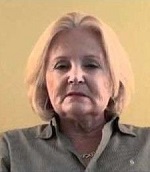 Ms. Irene Wright from Canada
My daughter had read about some heart diseases that are common in people of my age with the condition of diabetes and high blood pressure, and since then she was really persistent that I should get the coronary angiography tests done to ensure that there is no dormant heart problem. Though I procrastinated for a long period saying that I do not having any symptoms and there is no use of spending so much money on tests, she wanted to be sure. So, I finally decided to visit the hospital and get the tests done by the Indian cardiac surgery group and I was amazed to know that the cost of heart related tests is also so affordable.
How to plan your medical trip to India?
Send us your query and medical reports
Get the advised opinion and treatment plan from us within 48 hours from multiple hospitals
Choose your preferred hospital and clear your concerns if you have any
We will assist you with medical VISA, Vaccination, FRRO, Travel, Accommodation and Logistic Process
Arrival arrangements will be done for your pick up at the airport based on your itinerary
Treatment will start at the hospital as planned
Once the treatment is done, you can fly back
Post treatment follow up and consultation will be done by us via email, phone, skype
Related Pages
Tags
Coronary Angiography Test Cost In India, Low cost Angiography Test in India, Best Surgeons Coronary Angiography Test in India, Best Hospitals Coronary Angiography Test in India, Low Cost Coronary Angiography Test in New Delhi, Mumbai, Chennai, Bangalore, Hyderabad, Best Hospital for Coronary Angiography Test India, Best Place for Coronary Angiography Test India, Low Cost Coronary Angiography Test in Ahmedabad, Nagpur, Pune, Gurgoan / Gurugram, Kolkata, Cost Benefits of Coronary Angiography Test in India, Top Hospitals Coronary Angiography Test in India, Low Cost Coronary Angiography Test, Top Surgeons Coronary Angiography Test in India, Low Cost Coronary Angiography Test in Chandigarh, Jaipur, Noida, Kerala, Goa, Lowest Price for Coronary Angiography Test in India, Coronary Angiography Test Experience in India