Cost of Bioresorbable Vascular Scaffold Treatment with Top Hospitals and Top Surgeons in India
The cost of the Bioresorbable Vascular Scaffold Treatment in India is typically a fraction of the cost for the same procedure and care in the US and other developed countries.
The cost can vary as per the diagnosis and conditions of the patients along with the facilities availed.
And if you compare the same with developed nations, the cost for these treatments is often the double than what you find in India.
Various deciding factors could determine the price of Bioresorbable Vascular Scaffold Treatment in India. These can be broadly classified as Hospital, Medical Team or Patient Dependent factors.
Hospital Factors
Type of the hospital (Government/Trust/Private).
Use of insurance, type of insurance or self paid.
Accreditation of the facility
Reputation and brand value of the hospital.
Medical Team Factors
Technology / Approach Used
Surgery Type
Type of Anesthesia or Sedation
Qualification / Expertise of the specialist
Extent of the surgery needed
Patient Factors
Patient's diagnosis
Patient's general health
Room Category selected by the patient
Other treatment required by the patient in conjunction
Are you looking for affordable cost of Bioresorbable Vascular Scaffold Treatment in Top Hospitals of India?
Please enquire with us, Get a "No Obligation Quote"
What is Bioresorbable Vasuclar Scaffolds?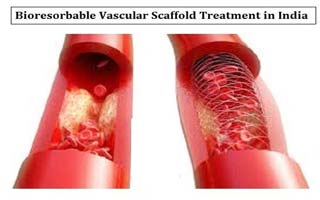 Medical science has given mankind dramatic advances for every field of medicine; particularly, for Cardiac ailments, looking at the rapid increase in the number of Cardiac patients.
Ground-breaking progresses in Bioresorbable materials and technology have delivered the possibility for a totally absorbable scaffold, with the help of which it is possible to mechanically support the Coronary Artery for a preset time period.
BVS represent a totally novel concept of providing transient vessel support with drug delivery capacity but theoretically excluding the long term restrictions of metallic Drug Eluting Stents (DES)
How is the latest BVS?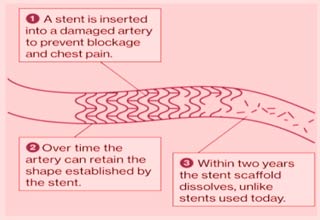 The latest BVS, a non-metallic mesh tube which is used to treat a narrowed artery, is very much similar to a stent.
But the BVS slowly dissolves once the blocked artery is able to function harmoniously again and stays open on its own. Similar to a small mesh tube, BVS is designed to aid in opening up a blocked artery in the heart and restore blood and oxygen flow to the heart muscle.
It is quite similar to a stent, but is a non-metallic, not a permanent, mesh implant that dissolves with time and allows the artery to function normally again – something like a cast or plaster that support a broken arm or leg and then later on is removed.
Thus, the BVS takes about 12-24 months of time to dissolve and supports the vessel until it is capable and strong enough to stay open on its own.
BVS is made up of material, which is also used in other medical devices like dissolving stitches. This substance lets the BVS to break down into stuff that is already present in the human body, like water (H2O) and carbon dioxide (CO2). This enables the artery to get back to a more natural state.
What are Stents ?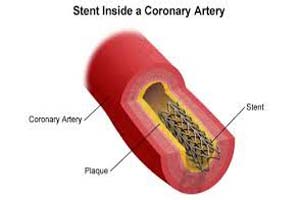 Stents are very petite and expandable tubes, which are used in the treatment of narrowed or diseased arteries in the body.
Patients suffering from CAD, stents are very helpful and are used to open these narrowed arteries.
This further helps in lessening the symptoms such as chest pain (angina) or the risk of a heart attack.
Who is a suitable candidate for this procedure?
BVS is appropriate and recommended for those patients, who have significant arterial narrowing (Stenosis) and atherosclerotic plaque of the coronary arteries.
Coronary Artery disease is graded with the help of sophisticated medical imaging systems, which can measure Stenosis precisely.
This evaluation is very crucial in successfully fitting the BVS in the correct position and for the success of this innovative procedure.
For which Cardiac situation is Bioresorbable Vascular Scaffold surgery a major source of relief?
Bioresorbable Vascular Scaffold surgery a major source of relief for :
Coronary Artery Disease (CAD) – This happens when arteries that supply blood to the heart muscle harden or become narrow. This is primarily due to accumulation of cholesterol and other material, called plaque on the inner walls of the arteries. This accumulation is also called Atherosclerosis.
Acute Coronary Syndrome – This is an umbrella term for situations where the blood or oxygen supply to the heart muscle abruptly gets blocked.
Paediatric Applications – BVS are also an apt technology for the treatment of paediatric obstructive vascular lesions, like Aortic Coarctation and Pulmonary Artery Stenosis. Permanent metallic implants restrict the vessel growth and need future surgical removal while this is not the case with BVS.
If you are ready to proceed for discussion and planning for treatment in India, you can fill the contact form below and we will get in touch with you very soon. Please feel free to ask all your queries & concerns.
How does the BVS System work?
The introduction of BVS system is an extremely appealing technological advancement for the management of simple and intricate Coronary Artery Disease.
The BVS system aids in opening the choked arteries to restore blood supply to the heart and then slowly dissolves in the body. BVS is very different from metallic stents, which confine the vessel.
BVS system is much more flexible dissolves with time (starting after 3-6 months after the procedure and takes about 2-3 years to get absorbed completely) totally eradicating the need for a permanent implant.
There are only two pairs of small metallic markers that stay in the artery to help the doctors see where the BVS was implanted.
How is the BVS procedure performed?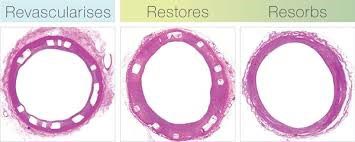 This whole procedure works in three phases :
Revascularisation – During this phase, BVS revascularizes and offers good deliverability, outstanding conformability, minimum acute recoil, high radial strength, and controlled release of everolimus (an immunosuppressant meant to prevent restenosis)
Restoration – This phase enables the natural vessel function for improved and long-term results. Refurbishment of the vessel happens as the scaffold benignly resorbs without any kind of trouble or inflammation
Resorption – BVS slowly and steadily stops providing luminal support and changes from an intact scaffold to a discontinuous structure implanted within neointimal tissue. As the scaffold degrades, the polymer transforms into lactic acid, which is further metabolized and ultimately gets converted into carbon dioxide and water
Factors related to the procedure and lesion play a very significant role in acute procedural success there may be some technical hindrances that can be encountered during the implantation of the BVS.
The impact of these factors can be diminished by systematically adhering to the implantation recommendations.
Also, the long-lasting success of BRS system depends on a combination of wary patient and lesion selection, with the help of proper implantation technique.
By taking hands-on steps to perform accurate patient or lesion selection and by executing the best possible implantation method, risks of negative outcomes can be minimized, resulting into a successful BVS surgery.
How much time would it take to recover from BVS surgery?
Recovery after going through the BVS procedure is generally quick.
The scaffold gradually releases the medication into the affected area and with time it begins to dissolve.
The process begins after 3-6 months post surgery and might take about 3 years to dissolve completely.
There are minimum chances of side-effects or infection. Owing to this, the patients can resume with their routine life quicker.
What are the Benefits of Bioresorbable Vascular Scaffold Procedure?
Eliminates the worry about getting a permanent implant
Gives better Coronary Computerized Tomography imaging without any hindrances due to the metallic stents
Lowered threat of stent thrombosis
Lowered chances of any kind of inflammation like in the case of metallic stents
Treats restenosis without the need for several layers of stents
Unlike metallic stents, BVS enables the stented section to regain its normal architecture physiological functioning
Enables the patient to resume his/her everyday activities smoothly
Surely a great help and positive impact on the patient's long-term heart health
Helps in lowering the chances of any future Coronary artery disorder symptoms
Why get this surgery done in India?
The BVS technique has drastically evolved over the years and the success rates prove the efficiency of this technique. Both the doctors and patients are immensely satisfied with the numerous benefits of availing this procedure.
Thus, healthcare experts around the globe are doing their best to hone this procedure as much as possible so as to provide more comfort and maximum benefit to the patients with CAD.
India has positioned herself much ahead of many leading countries in the matter of such progressive treatment methodologies.
The healthcare sector of India is putting the best foot forward to offer the best of medical amenities to patients across the world. India proudly homes some of the best hospitals in the world blessed with the most modern amenities; especially in the field of Cardiology.
The Indian hospitals are extremely sought after for the span of treatment options feasible here and also because these hospitals are technological very sound.
The best of technological advancement can be seen here and the cutting edge treatment techniques are implemented here. Not only this, one of the most attractive facets are the doctors and surgeons of India, who are highly proficient and have the perfect skill set to perform the most complex medical procedure.
These surgeons are an ideal amalgamation of experience and expertise. Request a quick appointment at the best hospitals for Bioresorbable Vascular Scaffold procedure in Mumbai by contacting us.
No matter how intricate the procedure is, the medical tourists can be completely assured that they are in the best hands.
Further, the success rates at these hospitals are at par with the international standards and the patients receive superlative care. Another massive benefit is the cost effectiveness, for which India's popularity as a healthcare destination has touched new heights of success.
How many patients underwent Bioresorbable Vascular Scaffold Treatment in India in the last 5 years?
In recent years, India has emerged as a medical hub for patients looking for affordable, accessible and efficient low cost Bioresorbable Vascular Scaffold treatment.
This emergence is primarily due to the development of state-of-the-art private and public sector healthcare facilities, medical insurance and the ease of access to quality healthcare services. An average increase of 15 to 20 percent annually has been observed in the number of patients in the last 5 years.
Planning Affordable Bioresorbable Vascular Scaffold Treatment in India is an easy process.
Our Hospitals Network and Surgery Group are available in 15 cities of India for our patients to access. Kindly fill up the form for a free opinion from our expert cardiology team. You will be provided with an analysis and recommendations for your surgery.NO CHARGES LEVIED.
Special ALL SERVICES INCLUSIVE Packages available for INTERNATIONAL PATIENTS
What are the services we offer our international patients?
Planning your surgery : From getting your reports reviewed by Doctor to making arrangements for your accommodation once you arrive in India.
On call consultation with your surgeon : Arranging for a tele-call with your surgeon so that you can have a detailed discussion over your treatment plan.
Continuous Assistance and Support : Our Executive will continuously stay in touch with you and provide you with all the relevant information and process to be followed.
Travel Documents/ Visa Process : Our Executive will provide you with all the information required for you to travel to India i.e Vaccinations, Visa documents etc.
Recommendations of Hotels and Guest House : recommendation of hotels offering 2 star services to 5 star services for your stay in the city as per your budget and preference will be sent to you so that you can choose accordingly.
Ground Transportation : Arranging for your Airport pick up and Drop.
Regional Translators : Availabilty of regional translators 24*7 so that language should not be a barrier in your medical trip to India.
Arranging for a local contact number.
Follow Up : Our executive will constantly stay in touch with us even after you land in your country.
How to plan your medical trip to India?
Send us your query and medical reports
Get the advised opinion and treatment plan from us within 48 hours from multiple hospitals
Choose your preferred hospital and clear your concerns if you have any
We will assist you with medical VISA, Vaccination, FRRO, Travel, Accommodation and Logistic Process
Arrival arrangements will be done for your pick up at the airport based on your itinerary
Treatment will start at the hospital as planned
Once the treatment is done, you can fly back
Post treatment follow up and consultation will be done by us via email, phone, skype
Mr. Kevin Stahl from Norway shares his experience of getting affordable Bioresorbable Vascular Sccaffold Treatment done in India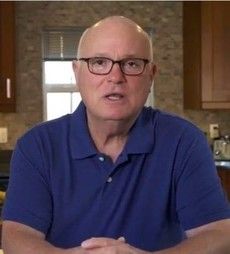 Mr. Kevin Stahl from Norway
India Cardiac Surgery Group in India follows a systematic, streamlined, and intuitive process. My mind was over packed with questions but the answers to all were immediate and straight, leaving me confident and satisfied. After clearing all my doubts and queries, I finally decided to undergo the vascular scaffold surgery through this group of doctors and the surgery went on smoothly.
Who Are The Top 20 Surgeons Performing Bioresorbable Vascular Scaffold Treatment In India?
DR BASHI V VELAYUDHAN
DR Z S MEHARWAL
DR RAJU VYAS
DR MANOJ P NAIR
DR Y K MISHRA
DR BHABA NANDA DAS
DR. T. S. KLER
DR. PAWAN ZUTSHI
DR. RITESH SANGURI
DR. SATBIR SINGH

DR. SHILPI MOHAN
DR. NARESH TREHAN
DR. RAJESH SHARMA
DR. ALI ZAMIR KHAN
DR NANDKISHORE KAPADIA
DR AMAR NATH GHOSH
DR SARAJIT KUMAR DAS
DR K M MANDANA
DR MADAN KUMAR K
DR K R BALAKRISNAN
Which Are The Top 20 Hospitals Where You Can Undergo Bioresorbable Vascular Scaffold Treatment In India?
MEDANTA – THE MEDICITY, GURGAON
BLK SUPER SPECIALITY HOSPITAL, CHENNAI
NARAYANA HOSPITAL ,BANGALORE
CARE HOSPITALS, HYDERABAD
ASIAN HEART INSTITUTE,MUMBAI
NANAVATI HOSPITAL,MUMBAI
BILLROTH HOSPITAL, CHENNAI
APOLLO HOSPITAL,CHENNAI
FORTIS ESCORTS HEART INSTITUTE AND RESEARCH CENTRE,DELHI
INDRAPRASTHA APOLLO HOSPITAL, DELHI

MAX SUPER SPECIALITY HOSPITAL, SAKET
THE WOCKHARDT HOSPITAL, MUMBAI CENTRAL
MANIPAL HOSPITAL, BANGALORE
ADITYA BIRLA MEMORIAL HOSPITAL, PUNE
KOKILABEN AMBANI HOSPITAL,MUMBAI
APOLLO HOSPITAL, CHENNAI
FORTIS MALAR HOSPITAL, CHENNAI
FORTIS HOSPITAL MUMBAI
GLOBAL HOSPITAL, CHENNAI
ARTEMIS HOSPITAL, GURGAON
If you are looking for Bioresorbable Vascular Scaffold Treatment , kindly fill up the form for a free consultation with our surgeons.
After thorough analysis of the reports and medical history, you will be provided with the advised clinical opinion and suggestions from our experts.
Tags
affordable price bioresorbable vascular scaffold treatment in India, best hospitals for bioresorbable vascular scaffold procedure in India, best cardiologists for bioresorbable vascular scaffold procedure in India, Top Surgeons For Bioresorbable Vascular Scaffold Treatment In India, Best Surgeons For Bioresorbable Vascular Scaffold Treatment, Top List of hospitals for BVS Procedure, Best Hospitals for Bioresorbable Vascular Scaffold surgery, Bioresorbable Vascular Sccaffold Treatment Experience in India