What is the Cost of Congenital Atrial Septal Defects (ASD) Surgery in India?
Affordable congenital Atrial surgery in India ensures that there are considerable savings on the cost aspect when it comes to the surgery part.
This extra savings in cost can be put to more productive purposes. This is the main reason on why medical tourism in India is making rapid strides.
And if you compare the same with developed nations, the cost for these treatments is often the double than what you find in India.
The list of various factors deciding the price of Congenital Atrial Septal Defects Surgery in India is as follows :
Treatment Method
Type of Surgery
Other treatments required in conjunction with ASD Surgery
Investigations & evaluation required
Hospital fee
Room Category
The variation in the above cost is dependent on the following
Type of the hospital (Government/Trust/Private).
Use of insurance, type of insurance or self paid.
Accreditation of the facility
Expertise, seniority, reputation and brand value of the surgeon/doctor.
Contact Us for a FREE No Obligation Quote & Opinion for Congenital Atrial Septal Defects Surgery in India
Our Hospitals Network and Surgery Group are available in 15 cities of India for our patients to access. Kindly fill up the form for a free opinion from our expert team. We shall get you a Free, No Obligation Opinion from India's best Surgeons and best Hospitals in India. NO CHARGES LEVIED.
Special ALL SERVICES INCLUSIVE Packages available for INTERNATIONAL PATIENTS
What is Congenital Atrial Septal Defect?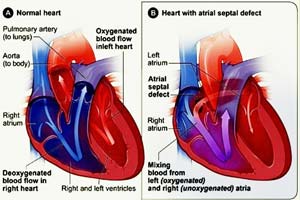 Atrial Septal defect is a hole, in the wall between the two upper chambers of the heart.
These defects may sometimes repair on own during childhood.
Surgery may be necessary to prevent any form of complications for people who may have a shortened life span due to high blood pressure or heart failure.
What are the Sign and Symptoms of Congenital Atrial Septal Defect?
Many babies born with Atrial septal defects do not have any form of symptoms. In adults, symptoms or signs usually occur by the age of 30, but in certain cases it may rarely be detected as well. Some patients show the following symptoms :
Tiring easily after any activity
Shortness of breath
Skipped beats
How are Congenital Atrial Septal Defects diagnosed?
The doctor may suspect an Atrial septal defect if they hear a heart murmur during consultation. It can also be found out when an ultrasound exam of the heart is also done.
Your Doctor may ask you to undertake the following tests
Echocardiogram
X rays of the chest
CT scans and MRI
What are the types of Atrial Septal Defect?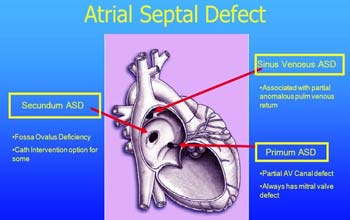 Types of Atrial Septal Defects are :
Sinus Venosus ASD
Secundum ASD
Primum ASD
How are Congenital Atrial Septal Defects (ASD) treated?
Most Atrial septal defects get repaired on their own during childhood. So it is quiet natural that the doctor may put you under observation so that the hole does not close on its own.
If that is not the case then surgery is the only option left. Medications may not repair the hole, but go a long way to reduce the symptoms.
If you have a congenital heart defect, or if you had a surgery to correct one, there may be tab on certain activities and other issues
Diet – A healthy diet based on fruit, vegetables and low in saturated fat can keep your heart healthy. Eating one or two servings of fish in a week would be more than beneficial
Exercise- Having this deformity does not restrict you from any form of physical activity.
Why choose an Indian Hospital for Congenital Atrial Septal Defects Surgery (ASD)?
Indian hospitals have scaled the popularity charts as far as Low cost Congenital Atrial septal defect surgery in India is concerned.
Most of the hospitals in the country are well equipped with the latest in technology and the surgeons have a proven track record of having been part of several successful surgeries.
When it comes to surgery related to the heart, the safety and the comfort of the patients is topmost on the agenda and the Indian hospitals are the perfect role model in that regard.
Mrs. Adediwura from Nigeria shares her kid's ASD treatment done in India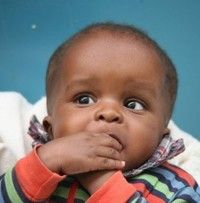 Baby Onyeka Adediwura from Nigeria
I will never be able to thank the Indian cardiac surgery group enough for what they have done for our family. It was difficult to even imagine that my 2 month old son had a hole in the upper chambers of his heart. We were completely shattered and confused at that time and did not want to take any risk with our kid's treatment. He was diagnosed with ASD and the only permanent solution to the problem was a surgery. Those were really the trying days for us but the way doctors and staff at the hospital supported us, we could not have gone through it without the contribution of even one of them.
How many patients underwent Congenital Atrial Septal Defects Surgery (ASD) in India in the last 5 years?
Some of the most coveted Congenital Atrial Septal Defects Surgery hospitals in the world are found in India. The country is known for offering advanced medical facilities at the most reasonable cost. The best Congenital Atrial Septal Defects Surgery hospitals in India have a comprehensive solution for the most critical cases.
Early diagnosis, surgery or treatment helps to enhance the chances of a successful outcome.
An average increase of 15 to 20 percent annually has been observed in the number of patients in the last 5 years.
The Indian Congenital Atrial Septal Defects Surgery hospitals deliver advanced health care and highest quality services backed by elaborate infrastructure and lower treatment cost.
Besides, India produces best quality medicines, drugs, and consumables for health care at almost one-tenth of the price as is in the developed nations.
Are you looking for affordable cost of Congenital Atrial Septal Defects Surgery in Top Hospitals of India?
Please consult us to get FREE Quotes, Opinions from TOP Hospitals and BEST Surgeons of India for Congenital Atrial Septal Defects Surgery.
What are the services offered to our International patients?
Planning your surgery : From getting your reports reviewed by Doctor to making arrangements for your accommodation once you arrive in India.
On call consultation with your surgeon : Arranging for a tele-call with your surgeon so that you can have a detailed discussion over your treatment plan.
Continuous Assistance and Support : Our Executive will continuously stay in touch with you and provide you with all the relevant information and process to be followed.
Travel Documents/ Visa Process : Our Executive will provide you with all the information required for you to travel to India i.e Vaccinations, Visa documents etc.
Recommendations of Hotels and Guest House : recommendation of hotels offering 2 star services to 5 star services for your stay in the city as per your budget and preference will be sent to you so that you can choose accordingly.
Ground Transportation : Arranging for your Airport pick up and Drop.
Regional Translators : Availabilty of regional translators 24*7 so that language should not be a barrier in your medical trip to India.
Arranging for a local contact number.
Follow Up : Our executive will constantly stay in touch with us even after you land in your country.
How to plan your medical trip to India?
Send us your query and medical reports
Get the advised opinion and treatment plan from us within 48 hours from multiple hospitals
Choose your preferred hospital and clear your concerns if you have any
We will assist you with medical VISA, Vaccination, FRRO, Travel, Accommodation and Logistic Process
Arrival arrangements will be done for your pick up at the airport based on your itinerary
Treatment will start at the hospital as planned
Once the treatment is done, you can fly back
Post treatment follow up and consultation will be done by us via email, phone, skype
Tags
Congenital Atrial Septal Defects Surgery In India At Affordable Prices, Pediatric Heart Conditions, Affordable Congenital Atrial Septal Defects (asd) Surgery in India, Congenital Atrial Septal Defects (asd) Surgery, Congenital Atrial Septal Defects (asd) Surgery in India, Free Consultation Congenital Atrial Septal Defects (asd) Surgery, Low Cost Congenital Atrial Septal Defects (asd) Surgery in India, Congenital Atrial Septal Defects Treatment at Top Hospitals In India, Top Congenital Septal Defects Treatment Hospitals in India, ASD Treatment Experience in India