What is the Cost of Pacemaker Implantation Surgery with Top Hospitals and Top Surgeons in India?
The cost of the Pacemaker Implantation Surgery in India is typically a fraction of the cost for the same procedure and care in the US and other developed countries.
The cost can vary as per the diagnosis and conditions of the patients along with the facilities availed.
And if you compare the same with developed nations, the cost for these treatments is often the double than what you find in India.
Various deciding factors could determine the price of Pacemaker Implantation Surgery in India. These can be broadly classified as Hospital, Medical Team or Patient Dependent factors.
Hospital Factors
Type of the hospital (Government/Trust/Private).
Use of insurance, type of insurance or self paid.
Accreditation of the facility
Reputation and brand value of the hospital.
Medical Team Factors
Technology / Approach Used
Surgery Type
Type of Anesthesia or Sedation
Qualification / Expertise of the specialist
Extent of the surgery needed
Patient Factors
Patient's diagnosis
Patient's general health
Room Category selected by the patient
Other treatment required by the patient in conjunction
Check out the Patient Testimonial, where the patient shares about their success stories from treatments through India Cardiac Surgery Consultants.

Are you looking for affordable cost of Pacemaker Implantation Surgery in Top Hospitals of India?
Please enquire with us, Get a "No Obligation Quote"
What is a pacemaker device?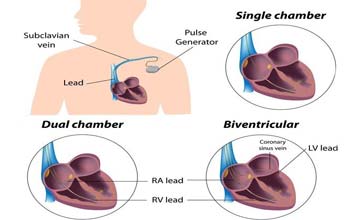 A pacemaker is a device that regulates arrhythmic heart beat.
The pacemaker is a small metal device that weighs between 20 and 50g and is implanted under the skin on the chest below the collarbone, near the heart and connected to the heart with leads.
There are 3 different types of pacemakers, single-chamber pacemakers, dual-chamber pacemakers, and biventricular pacemakers
What is pacemaker Implantation?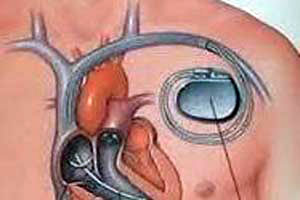 A pacemaker is implanted in the chest to regulate the heart rate and rhythm. A Pacemaker Implantation procedure is considered routine.
Every day, hundreds of pacemaker implant surgeries are performed globally.
The procedure often takes place in an operating room, cardiac cath or EP lab, and usually takes an hour or two.
What are the different methods of Pacemaker Implantation?
There are two methods
Endocardial Lead Positioning :

The best pacemaker implant hospital in India use the most common technique that involves advancing the pacemaker lead, an insulated wire coil, into the heart through a vein. Once the lead is inside the heart, the physician places its tip to the inside lining of the heart. At this point, the doctor tests the lead to see if this location is suitable for pacing.
The team tests the lead by attaching it to a small, hand-held computer called an analyzer. As the lead is checked, a technician or nurse calls out numbers. Another technician may monitor an electrocardiogram (ECG) machine and call out information to the doctor. Lead testing is not painful, but it is the loudest phase of the operation. These numbers refer to your pacing threshold (the lowest amount of energy needed to stimulate your heart to beat) and help the doctor determine the best position for the lead in your heart.
After the test, your doctor may decide to move the lead and run the test again. You may hear the team call out numbers several times as the doctor attempts to find the best position for the pacing lead. Repositioning and re-testing a pacing lead several times is not unusual in pacemaker surgery.
Once the leads are in place, you may be asked to take deep breaths and cough vigorously while the physician observes an x-ray of your heart. This is done to ensure proper and secure placement of the leads. Once the leads are in place, your physician plugs them into the pacemaker and slips the pacemaker into a small pocket made just beneath the skin of your upper chest. The pocket is closed with stitches to complete the procedure.
You may feel slight pressure while the leads and pulse generator are being inserted into the pocket; alert your physician to any signs of discomfort.

Epicardial Lead Positioning :

In another implantation procedure, an incision is made in the chest to expose the exterior surface of the heart. The lead is attached directly to your heart's surface (epicardium). This method is usually performed under general anesthesia. The pulse generator is usually placed under the skin in the upper abdomen, but it may also be placed in the upper chest area. This method is usually used when there is some reason to avoid the endocardial positioning method.
Why is a pacemaker implantation surgery recommended to a patient?
A pacemaker implantation surgery is recommended for:
Atrial fibrillation
Sick sinus syndrome
Bradycardia
Heart block
What does a pacemaker do?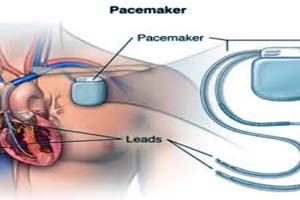 An implanted pacemaker mimics the action of your natural pacemaker. It consists of two parts
The pulse generator. This small metal container houses a battery and the electrical circuitry that regulates the rate of electrical pulses sent to your heart.
Leads (electrodes). One to three flexible, insulated wires are each placed in a chamber, or chambers, of your heart and deliver the electrical pulses to adjust your heart rate.
Which tests will be taken to determine if you need a pacemaker implantation?
Electrocardiogram.
Holter monitoring.
Echocardiogram.
Stress test.
What to expect during a pacemaker implantation surgery?
During surgery, one or more flexible, insulated wires (leads, or electrodes) are inserted into a major vein under or near your collarbone and guided to your heart with the help of X-ray images.
One end of each wire is secured to the appropriate position in your heart, while the other end is attached to the pulse generator, which is usually implanted under the skin beneath your collarbone
What to expect after an pacemaker Implantation Surgery ?
After the surgery, you will be taken to a recovery room. You may feel slight soreness around the incision site where the pulse generator was implanted, which can be managed with medication. Depending on your particular case, you may stay in the hospital anywhere from several hours to several days
Though people are generally aware of their pacemakers for sometime after the implant, the sensation decreases eventually. Sometimes there will be a bruise at the area where the device was implanted. This is typical with any surgical procedure and will go away with time. If the incision becomes red, hot, more painful, swollen, or begins draining fluid, notify the doctor immediately.
The abnormal heart rhythm before the implant should diminish or disappear. Inform your physician about any new sensations after the pacemaker implantation to help him readjust the programmed settings of the device to suit your comfort level.
After the surgery, you may feel the urge to touch or poke the implant site which you should resist as the new pacemaker and lead can get tangled. During your follow-up visits, the doctor uses a computer called a programmer, to communicate with the pacemaker. Attached to the programmer is a small device called a wand. The doctor uses the programmer to adjust and fine-tune the pacemaker's settings. The doctor places the wand over the implant site, and the programmer communicates with your pacemaker.
How many patients underwent Pacemaker Implantation Surgery in India in the last 5 years?
In recent years, India has emerged as a medical hub for patients looking for affordable, accessible and efficient low cost Pacemaker Implantation Surgery.
This emergence is primarily due to the development of state-of-the-art private and public sector healthcare facilities, medical insurance and the ease of access to quality healthcare services. An average increase of 15 to 20 percent annually has been observed in the number of patients in the last 5 years.
Planning Affordable Pacemaker Implantation Surgery in India is an easy process.
Our Hospitals Network and Surgery Group are available in 15 cities of India for our patients to access. Kindly fill up the form for a free opinion from our expert cardiology team. You will be provided with an analysis and recommendations for your surgery.NO CHARGES LEVIED.
Special ALL SERVICES INCLUSIVE Packages available for INTERNATIONAL PATIENTS
What are the services provided by us to our International patients?
Planning your surgery : From getting your reports reviewed by Doctor to making arrangements for your accommodation once you arrive in India.
On call consultation with your surgeon : Arranging for a tele-call with your surgeon so that you can have a detailed discussion over your treatment plan.
Continuous Assistance and Support : Our Executive will continuously stay in touch with you and provide you with all the relevant information and process to be followed.
Travel Documents/ Visa Process: Our Executive will provide you with all the information required for you to travel to India i.e Vaccinations, Visa documents etc.
Recommendations of Hotels and Guest House: recommendation of hotels offering 2 star services to 5 star services for your stay in the city as per your budget and preference will be sent to you so that you can choose accordingly.
Ground Transportation : Arranging for your Airport pick up and Drop.
Regional Translators : Availabilty of regional translators 24*7 so that language should not be a barrier in your medical trip to India.
Arranging for a local contact number.
Follow Up: Our executive will constantly stay in touch with us even after you land in your country.
Why choosing India cardiac surgery team for your Pacemaker Implantation surgery is the right decision to make?
Your Medical Trip is planned by a well experienced and qualified team of Relationship Executives.
Affordable surgery packages offered to you.
Patient reports are viewed by Medical Experts who are highly reputed, Qualified and have an experience of 20 years and above to their credit.
Your safety and care is the top most priority for us in planning your medical trip.
Hospitals with the best amenities and expert medical care are recommended.
Treatments are available for all age groups from and infant to a elderly person.
Different types of treatment offered under 1 shelter, so that apart from your specific surgery you could also seek treatment for any other ailment as well.
Discounted surgery packages and Health plans for you.
Recommendations of surgeons who are USA and UK qualified with International exposure.
Recommendations of only NABH accredited Hospitals with well equipped and Hi-tech technology labs and well qualified employees.
Listen to the Voices of Our Happy Patients
Who Are The Top 20 Surgeons Performing Pacemaker Implantation Surgery In India?
DR APARNA JASWAL
DR MADAN KUMAR K
DR K R BALAKRISNAN
DR BASHI V VELAYUDHAN
DR Z S MEHARWAL
DR RAJU VYAS
DR MANOJ P NAIR
DR Y K MISHRA
DR BHABA NANDA DAS
DR. T. S. KLER

DR. PAWAN ZUTSHI
DR. RITESH SANGURI
DR. SATBIR SINGH
DR. SHILPI MOHAN
DR. NARESH TREHAN
DR. RAJESH SHARMA
DR. ALI ZAMIR KHAN
DR NANDKISHORE KAPADIA
DR AMAR NATH GHOSH
DR K M MANDANA
Which Are The Top 20 Hospitals Where Pacemaker Implantation Surgery Is Performed?
FORTIS ESCORTS HOSPITAL, NEW DELHI
ASIAN HEART INSTITUTE,MUMBAI
APOLLO HOSPITAL,CHENNAI
FORTIS ESCORTS HOSPITAL, BANGALORE
ARTEMIS HOSPITAL, GURGAON
MEDANTA HOSPITAL, NEW DELHI
MAX SUPER SPCIALITY HOSPITAL, NEW DELHI
FORTIS MEMORIAL RESEARCH INSTITUTE GURGAON.
INDRAPRASTHA APOLLO HOSPITAL, NEW DELHI
BLK SUPER SPECIALITY HOSPITAL, NEW DELHI

GLOBAL HOSPITAL,CHENNAI
SHARDA HOSPITAL,DELHI
PARAS HOSPITAL, GURGAON
NANAVATI HOSPITAL,MUMBAI
MANIPAL HOSPITAL,BANGALORE
THE WOCKHARDT HEART INSTITUTE, MUMBAI
NARAYANA HOSPITAL,BANGALORE.
RUBY HALL, PUNE
FORTIS HOSPITAL, KOLKATA
CONTINENTAL INSTITUTE OF CARDIOVASCULAR SCIENCES, HYDERABAD
Get a free consultation with our Surgeon for your Pacemaker Implantation Procedure
Kindly fill up the form for a free consultation with our surgeons
After thorough analysis of the reports and medical history, you will be provided with the advised clinical opinion and suggestions regarding your Pacemaker Implantation Procedure from our experts.
Tags
Pacemaker Implantation Procedure in India, Cost of Pacemaker Implant Surgery in India, Low Cost Pacemaker Implantation Surgery in India, Pacemaker Implantation in India, Pacemaker Implantation Surgery Cost in India, Best Cardiologist Surgeon for Pacemaker Surgery, Top Electrophysiologists for Pacemaker Implantation Surgery In India, Best Hospitals for Cardiac Pacemaker Surgery, Top Surgeons for Pacemaker Surgery in India, Top Surgeons for Pacemaker Surgery in Delhi, Chennai, Mumbai