What is the Cost of Angioplasty Surgery with Top Hospitals and Top Surgeons in India?
The average cost of the Angioplasty Surgery is very high in western countries.
India is known worldwide for its advanced medical facilities and promising technology for Angioplasty Surgery. Many of the best hospitals for Angioplasty Surgery can be found in India.
Angioplasty Surgery cost in India is much less when compared to any other countries. Also the cost of Angioplasty Surgery in India is substantially lower than other developed countries of the world.
Various deciding factors could determine the price of Angioplasty Surgery in India. These can be broadly classified as Hospital, Medical Team or Patient Dependent factors.
Hospital Factors
Type of the hospital (Government/Trust/Private).
Use of insurance, type of insurance or self paid.
Accreditation of the facility
Reputation and brand value of the hospital.
Medical Team Factors
Technology / Approach Used
Surgery Type
Type of Anesthesia or Sedation
Qualification / Expertise of the specialist
Extent of the surgery needed
Patient Factors
Patient's diagnosis
Patient's general health
Room Category selected by the patient
Other treatment required by the patient in conjunction
The LIST of AVERAGE COST of the Angioplasty Surgery across TOP 15 cities in India in Indian Rupee (INR) is as follows :
| | | | |
| --- | --- | --- | --- |
| City | Lowest Cost | Average Cost | Highest Cost |
| New Delhi | 1,40,000 | 2,50,000 | 3,75,000 |
| Mumbai | 1,35,000 | 2,25,000 | 3,50,000 |
| Chennai | 1,50,000 | 2,50,000 | 3,80,000 |
| Bangalore | 1,55,000 | 2,60,000 | 3,95,000 |
| Hyderabad | 1,50,000 | 2,55,000 | 3,85,000 |
| Ahmedabad | 1,65,000 | 2,60,000 | 4,00,000 |
| Nagpur | 1,25,000 | 2,00,000 | 3,25,000 |
| Kolkata | 1,60,000 | 2,60,000 | 4,00,000 |
| Pune | 1,35,000 | 2,25,000 | 3,50,000 |
| Gurgoan / Gurugram | 1,40,000 | 2,50,000 | 3,75,000 |
| Chandigarh | 1,50,000 | 2,55,000 | 3,85,000 |
| Jaipur | 1,55,000 | 2,60,000 | 3,95,000 |
| Noida | 1,40,000 | 2,50,000 | 3,75,000 |
| Kerala | 1,65,000 | 2,60,000 | 4,00,000 |
| Goa | 1,60,000 | 2,60,000 | 4,00,000 |
With us, at a single platform you will get more than 60 options of TOP Hospital and BEST Surgeons for Angioplasty Surgery to choose from in India.
Contact Us for a FREE No Obligation Quote & Opinion for Angioplasty Surgery in India
Our Hospitals Network and Surgery Group are available in 15 cities of India for our patients to access. Kindly fill up the form for a free opinion from our expert team. We shall get you a Free, No Obligation Opinion from India's best Surgeons and best Hospitals in India. NO CHARGES LEVIED.
Special ALL SERVICES INCLUSIVE Packages available for INTERNATIONAL PATIENTS
What is Angioplasty?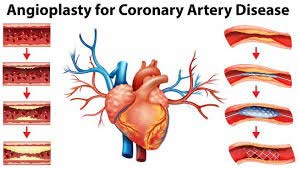 Angioplasty is a minimally invasive procedure performed to widen the occluded blood vessels or relieve the stenosis or the blockages of the blood vessels for ensuring proper blood flow to the heart.
The procedure is also known as coronary angioplasty or percutaneous coronary intervention which is often done when a person develops Coronary Artery Disease or CAD.
What does a modern Angioplasty surgery procedure involve?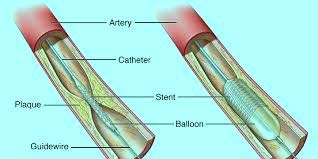 The modern angioplasty procedure involves inserting a small wire mesh tube called a stent, into the artery to help prop the artery open.
This stent is permanently left in the same place to maintain the flow of the blood.
The procedure is much less invasive than other surgical interventions and usually does not require general anesthesia.
Why would you need to undergo Angioplasty?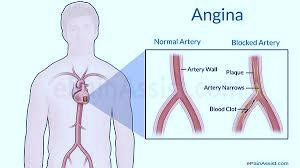 Coronary arteries are the primary suppliers of blood to the heart. In old age, these arteries become narrow and hardened, resulting in a restriction of flow of blood to the heart.
This restriction of blood to the chest leads to chest pains known as "Angina".
"Coronary Angioplasty" is required to restore the blood supply to the heart in a severe condition where medication is not effective. In severe emergency conditions such as a heart attack, coronary angioplasty is often used.
What to expect during an Angioplasty Surgery?
Angioplasty is performed under local anesthesia with sedation. The groin or arm is prepared for catheter insertion and the blood thinning medicines are introduced.
A needle is then inserted into the artery and a guide wire is passed through it which manipulates the blockage.
Then a catheter is passed over the wire to reach the blockage. With proper diagnostics the location of all tubes and catheters are checked for its position.
A balloon at the catheter tip is expanded and then deflated to relieve the artery narrowing. A stent can be placed after expansion for maintaining the expanded status or the artery and keep it patent.
Then incision is closed and dressed and the patient is monitored for blood pressure.
Angioplasty increases the blood flow through the narrowed and blocked arteries. Angina is reduced and the health improves with exercise.
With proper changes in lifestyle and medications the overall health improvement is good. Usually no further surgery is required such as bypass after a successful coronary angioplasty.
What to expect during recovery?
After an overnight stay at the hospital patients can be discharged.
However it depends on the condition of the patient's health and the doctor's advice.
After surgery, the patient is advised a lot of fluid intake and not to do any heavy lifting, smoking or exercise for the next 24 hours.
What are the benefits of undergoing Angioplasty Surgery?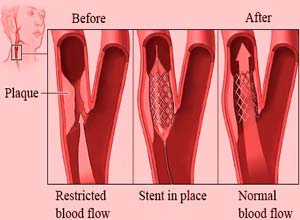 It saves your life and reduce heart muscle damage during a heart attack by restoring blood flow to the heart.
It immediately relieves or at least reduces symptoms, such as chest pain, shortness of breath and fatigue, making you feel better and able to do more each day.
Reduces the risk of stroke.
Improves functioning of the kidneys.
Restore blood flow to the legs to prevent gangrene and eliminate the need for amputation.
How many patients underwent Angioplasty Surgery in India in the last 5 years?
Some of the most coveted Angioplasty Surgery hospitals in the world are found in India. The country is known for offering advanced medical facilities at the most reasonable cost. The best Angioplasty Surgery hospitals in India have a comprehensive solution for the most critical cases.
Early diagnosis, surgery or treatment helps to enhance the chances of a successful outcome.
An average increase of 15 to 20 percent annually has been observed in the number of patients in the last 5 years.
The Indian Angioplasty Surgery hospitals deliver advanced health care and highest quality services backed by elaborate infrastructure and lower treatment cost.
Besides, India produces best quality medicines, drugs, and consumables for health care at almost one-tenth of the price as is in the developed nations.
Here are the approximate figures of the patients underwent Angioplasty Surgery in the last 5 years in India :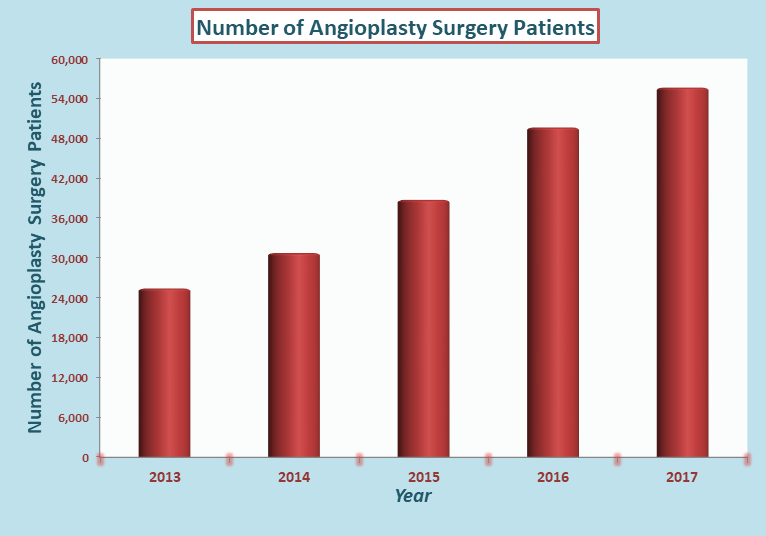 Are you looking for affordable cost of Angioplasty Surgery in Top Hospitals of India?
Please consult us to get FREE Quotes, Opinions from TOP Hospitals and BEST Surgeons of India for Angioplasty Surgery.
What are the services offered to our International Patients?
Planning your surgery : From getting your reports reviewed by Doctor to making arrangements for your accommodation once you arrive in India.
On call consultation with your surgeon : Arranging for a tele-call with your surgeon so that you can have a detailed discussion over your treatment plan.
Continuous Assistance and Support : Our Executive will continuously stay in touch with you and provide you with all the relevant information and process to be followed.
Travel Documents/ Visa Process : Our Executive will provide you with all the information required for you to travel to India i.e Vaccinations, Visa documents etc.
Recommendations of Hotels and Guest House : recommendation of hotels offering 2 star services to 5 star services for your stay in the city as per your budget and preference will be sent to you so that you can choose accordingly.
Ground Transportation : Arranging for your Airport pick up and Drop.
Regional Translators : Availabilty of regional translators 24*7 so that language should not be a barrier in your medical trip to India.
Arranging for a local contact number.
Follow Up: Our executive will constantly stay in touch with us even after you land in your country.
Ms. Camilla Caron from Canada shares her experience of getting Angioplasty Surgery done in India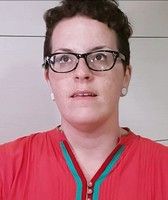 Ms. Camilla Caron from Canada
Cardiac diseases have become endemic and I too was affected with the same leaving my family panic and locked in a dark world of lost hopes and despair. My ill health and the financial incompetency were taking our lives on a toll. But thanks to my friend who immediately guided us to connect with India Cardiac Surgery group of doctors and hospitals in India. I am thankful to my friend and the entire team here including the panel of doctors who treated me with the most effective angioplasty procedure and that too at such a low cost price. Today, I am living a life of gift, a generous gift from this group.
How to plan your medical trip to India?
Send us your query and medical reports
Get the advised opinion and treatment plan from us within 48 hours from multiple hospitals
Choose your preferred hospital and clear your concerns if you have any
We will assist you with medical VISA, Vaccination, FRRO, Travel, Accommodation and Logistic Process
Arrival arrangements will be done for your pick up at the airport based on your itinerary
Treatment will start at the hospital as planned
Once the treatment is done, you can fly back
Post treatment follow up and consultation will be done by us via email, phone, skype
Listen to the Voices of Our Happy Patients
Who Are The Top 20 Surgeons Performing Angioplasty Surgery In India?
DR. NARESH TREHAN
DR. RAJESH SHARMA
DR. ALI ZAMIR KHAN
DR. NANDKISHORE KAPADIA
DR. AMAR NATH GHOSH
DR. SARAJIT KUMAR DAS
DR. K M MANDANA
DR. MADAN KUMAR K
DR. K R BALAKRISNAN
DR. BASHI V VELAYUDHAN

DR. Z S MEHARWAL
DR. RAJU VYAS
DR. MANOJ P NAIR
DR. Y K MISHRA
DR. BHABA NANDA DAS
DR. T. S. KLER
DR. PAWAN ZUTSHI
DR. RITESH SANGURI
DR. SATBIR SINGH
DR. SHILPI MOHAN
Which Are The Top 20 Hospitals Where Angioplasty Surgery Is Performed?
FORTIS ESCORTS HOSPITAL, NEW DELHI
ASIAN HEART INSTITUTE,MUMBAI
APOLLO HOSPITAL,CHENNAI
FORTIS ESCORTS HOSPITAL, BANGALORE
ARTEMIS HOSPITAL, GURGAON
MEDANTA HOSPITAL, NEW DELHI
MAX SUPER SPCIALITY HOSPITAL, NEW DELHI
FORTIS MEMORIAL RESEARCH INSTITUTE GURGAON.
INDRAPRASTHA APOLLO HOSPITAL, NEW DELHI
BLK SUPER SPECIALITY HOSPITAL, NEW DELHI

GLOBAL HOSPITAL,CHENNAI
SHARDA HOSPITAL,DELHI
PARAS HOSPITAL, GURGAON
NANAVATI HOSPITAL,MUMBAI
MANIPAL HOSPITAL,BANGALORE
THE WOCKHARDT HEART INSTITUTE, MUMBAI
NARAYANA HOSPITAL,BANGALORE.
RUBY HALL, PUNE
FORTIS HOSPITAL, KOLKATA
CONTINENTAL INSTITUTE OF CARDIOVASCULAR SCIENCES, HYDERABAD
Why the International Patients Trust us?
Being India's first government recognized Medical Value Provider; we have the best facilities in India which are worldly recognized and a team of surgeons with an international reputation.
We are a reliable medical group, helping International patients with affordable low cost treatment, best treatment facility with International Health Standards and a friendly seamless atmosphere. To get in touch with us now
Related Pages
Tags
Angioplasty Surgery Cost in India, Top Surgeons Angioplasty Surgery in India, Best Hospitals Angioplasty Surgery in India, Low Cost Angioplasty Surgery In India, Best Hospital for Angioplasty Surgery India, Cost Benefits of Angioplasty Surgery in India, Lowest Price for Angioplasty Surgery in India, Angioplasty Surgery Cost in India, Top Surgeons Angioplasty Surgery in India, Top Angioplasty Hospitals In India, Angioplasty Surgery Experience in India