What is the Cost of TAVI / TAVR Treatment with Top Hospitals and Top Surgeons in India?
The cost of the TAVI / TAVR Treatment in India is typically a fraction of the cost for the same procedure and care in the US and other developed countries.
The cost can vary as per the diagnosis and conditions of the patients along with the facilities availed.
And if you compare the same with developed nations, the cost for these treatments is often the double than what you find in India.
Various deciding factors could determine the price of TAVI / TAVR Treatment in India. These can be broadly classified as Hospital, Medical Team or Patient Dependent factors.
Hospital Factors
Type of the hospital (Government/Trust/Private).
Use of insurance, type of insurance or self paid.
Accreditation of the facility
Reputation and brand value of the hospital.
Medical Team Factors
Technology / Approach Used
Surgery Type
Type of Anesthesia or Sedation
Qualification / Expertise of the specialist
Extent of the surgery needed
Patient Factors
Patient's diagnosis
Patient's general health
Room Category selected by the patient
Other treatment required by the patient in conjunction
The LIST of AVERAGE COST of the TAVI / TAVR Treatment across TOP 15 cities in India in Indian Rupee (INR) is as follows :
| | | | |
| --- | --- | --- | --- |
| City | Lowest Cost | Average Cost | Highest Cost |
| New Delhi | 21,00,000 | 27,00,000 | 35,00,000 |
| Mumbai | 22,00,000 | 28,00,000 | 36,00,000 |
| Chennai | 21,00,000 | 28,00,000 | 37,00,000 |
| Bangalore | 22,00,000 | 27,00,000 | 37,00,000 |
| Hyderabad | 22,00,000 | 29,00,000 | 37,00,000 |
| Ahmedabad | 22,00,000 | 30,00,000 | 37,00,000 |
| Nagpur | 21,00,000 | 29,00,000 | 35,00,000 |
| Kolkata | 22,00,000 | 30,00,000 | 37,00,000 |
| Pune | 22,00,000 | 28,00,000 | 36,00,000 |
| Gurgoan / Gurugram | 21,00,000 | 27,00,000 | 35,00,000 |
| Chandigarh | 22,00,000 | 30,00,000 | 37,00,000 |
| Jaipur | 20,00,000 | 29,00,000 | 35,00,000 |
| Noida | 22,00,000 | 28,00,000 | 37,00,000 |
| Kerala | 20,00,000 | 28,00,000 | 35,00,000 |
| Goa | 22,00,000 | 29,00,000 | 37,00,000 |
With us, at a single platform you will get more than 60 options of TOP Hospital and BEST Surgeons for TAVI / TAVR Treatment to choose from in India.
Contact Us for a FREE No Obligation Quote & Opinion for TAVI / TAVR Treatment in India
Our Hospitals Network and Surgery Group are available in 15 cities of India for our patients to access. Kindly fill up the form for a free opinion from our expert team. We shall get you a Free, No Obligation Opinion from India's best Surgeons and best Hospitals in India. NO CHARGES LEVIED.
Special ALL SERVICES INCLUSIVE Packages available for INTERNATIONAL PATIENTS
What is TAVI or TAVR?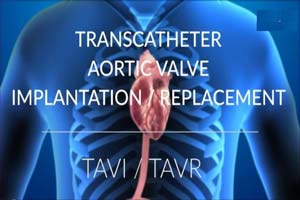 One of the most innovative treatment techniques that is in trend today is Transcatheter Aortic Valve Replacement (TAVR) is also sometimes referred to as Transcatheter Aortic Valve Implantation (TAVI).
Until recently, Valve replacement through open heart surgery was the only option available for the patients suffering from severe Aortic Stenosis. But many patients are denied this option owing to their advanced age, malfunctioning in the left ventricle, and other reasons.
With the invention of TAVI or TAVR treatment for such patients has also become feasible. TAVI or TAVR is an extremely effective option for patients with severe Aortic Stenosis with symptoms, which are too hazardous for standard Valve Replacement Surgery.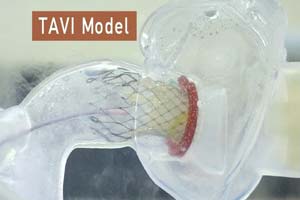 This is a minimally invasive surgical procedure that cures the valve without doing away with the old, diseased valve. As an alternative, it lodges a replacement valve into the aortic valve's place
Fairly similar to a stent put in an artery, the TAVI/TAVR approach delivers a completely collapsible replacement valve into the site with the help of a catheter. Then, after the new valve is expanded, it pushes the old valve out of the way and this facilitates the tissue in the replacement valve to regulate the blood flow.
Who is a suitable candidate for undergoing this procedure?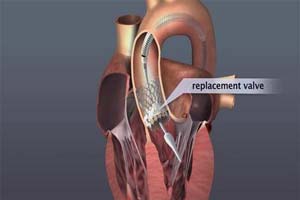 Most of the people who are considered for this surgery are in their 70s or 80s; hence more often it happens that these people have other medical conditions because of which open heart procedures can be very risky.
Therefore, this minimally invasive procedure can be the best option for them.
For whom is this procedure extremely helpful?
This procedure is an exciting technology that allows the doctors and surgeons to repair an indicative and severely narrowed Aortic Valve (Aortic Stenosis) without opening up the patient's chest.
It is extremely helpful for people who are at extreme risk for open heart surgery.
Which Medical Condition is cured by this procedure?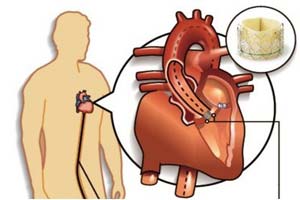 Severe Aortic Valve Stenosis – This is a medical condition that happens due to tapering of the heart's Aortic Valve. This valve allows smooth blood flow to be pumped from the main chamber of the heart to the rest of the human body.
But when this valve becomes considerably narrowed, it can put a lot of pressure and an elevated amount of stress on the heart muscle. Also, with the ageing process the valve gets hardened because of the calcium deposits that build up with time.
This leads to symptoms like discomfort in the chest region, shortness of breath, swelling in the leg, fatigue, light-headedness.
The most ordinary cause of Aortic Stenosis is degenerative that is age-related calcium deposits. There are other causes that include congenital disorder like Bicuspid Aortic Valve, an infected heart valve, or Rheumatic Fever.
What are the main factors that are evaluated before deeming a particular patient suitable for TAVI/TAVR procedure.
The age of the patient
The patient's health condition at present
Medical history
If the patient will be able to endure this intricate surgery
Condition of the patient's heart
If the patient has any history of fainting or passing out
If the patient ever had a stroke
If the patient ever has a Bypass surgery
If any history of Coronary Artery Disease (CAD) or Chronic or Obstructive Pulmonary Disease
If the patient has Cardiac Arrhythmias
Which test would a patient need to undergo to proceed with this procedure?
Non-invasive Chest X-ray
PFA (Pulmonary Function Test)
Angiogram
TTE (Transthoracic Echocardiogram)
CT Scan (Computed Tomography)
TEE (Transesophageal Echocardiogram)
MRI (Magnetic Resonance Imaging)
Are you looking for any assistance to plan your TAVI/TAVR surgery in India?
Get in touch with us to get a free consultation and guidance towards your treatment planning by contacting us online.
What are the types of procedural approaches used for TAVI/TAVR?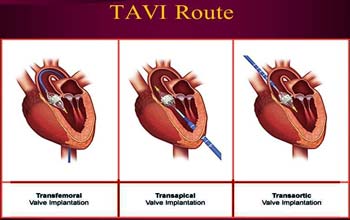 There are 3 types of approaches that can be used :
Transfemoral Approach
Transapical Approach
Transaortic Approach
What are the benefits of TAVI/TAVR?
It is a minimally invasive surgery much to the relief of the patients
Quicker recovery
Very low failure rates
Smaller incisions and thus less amount of blood loss
Lowered chances of infections
Patients are not eligible for open heart surgeries have another treatment option with this
Multiple procedural approaches makes it more advantageous
Improved quality of life
Very sophisticated technology and therefore assured and much safer outcomes
Why get this surgery done in India?
Transcatheter Aortic Valve Replacement or Transcatheter Aortic Valve Implantation has truly emerged as a very turned out to be a highly hopeful treatment option, which has become a bonus option for the globally located Cardiac patients.
This innovative treatment option has brought in a revolutionary and a welcome change in the field of Cardiology. Worldwide Cardiac specialists feel that this is a real game changer and the patients across the world are reaping the numerous benefits of this.
When it comes to such progressive Cardiac cure options, India is much ahead than many other leading nations.
With Cardiology being one of the most matured specialties offered by India, the Indian healthcare sector is leading the way in the matter of providing the most modern Cardiac treatment techniques to worldwide patients.
India is home to of the some of the preeminent and recognized hospitals in the world; particularly Cardiac hospitals, and these esteemed hospitals can proudly boast about the cutting edge technology and the most recent treatment techniques that are implemented with high success rates.
These chains of hospitals are investing a lot in keeping themselves at par with the global standards, the amenities provided are unbeatable and there is no compromise in the quality of services provided.
Furthermore, what sets these hospitals apart are tremendously proficient Cardiac doctors and surgeons, who are highly well-informed, meticulous and competent to deal with the most difficult Cardiac ailments, providing the much needed relief to worldwide patients from these discomforting Cardiac disorders.
Further, while in India, the patients can enjoy very affordable Cardiac treatment as the procedures are very sensibly priced here.
Mrs. Sarah Parker from Canada shares her experience of getting her TAVR procedure done in India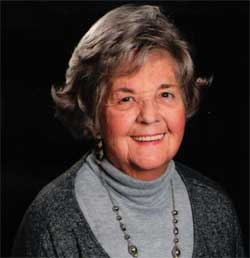 Mrs. Sarah Parker from Canada
I would like to extend a heartfelt gratitude to India Cardiac Surgery group for the support and assistance they have continuously provided me in planning my surgery in India. A friend recommended me to consult the heart specialists at India Cardiac Surgery Group for my TAVR procedure as she underwent her treatment with the same doctors and was extremely happy with her surgeons and exhibited confidence and appreciation in the services provided to her. She helped me get in touch with one of the executive of this group from where my entire Journey began. I was afraid of planning a surgery in another country of which I knew very little about.
The executive shared all the necessary information with me, organized for tele-consultation with my surgeon, and answered every query I had which made me confident about my decision of travelling to India. The 24*7 availability of the executive and cooperation in constantly answering my queries encouraged me further and I finally came to India. The well-organized schedule planned for me during my stay in India and the good services provided by them were highly appreciable. It's been a year now and am still in touch with my executive and thankful to god for leading me into the right direction.
How many patients underwent TAVI / TAVR Treatment in India in the last 3 years?
In recent years, India has emerged as a medical hub for patients looking for affordable, accessible and efficient low cost TAVI / TAVR Treatment. This emergence is primarily due to the development of state-of-the-art private and public sector healthcare facilities, medical insurance and the ease of access to quality healthcare services. An average increase of 15 to 20 percent annually has been observed in the number of patients in the last 5 years.
Here are the approximate figures of the patients underwent TAVI / TAVR Treatment in the last 3 years in India
Planning Affordable TAVI / TAVR Treatment in India is an easy process.
Our Hospitals Network and Surgery Group are available in 15 cities of India for our patients to access. Kindly fill up the form for a free opinion from our expert cardiology team. You will be provided with an analysis and recommendations for your surgery.NO CHARGES LEVIED.
Special ALL SERVICES INCLUSIVE Packages available for INTERNATIONAL PATIENTS
What are the services provided by us to our International patients?
Planning your surgery : Getting your reports reviewed by Doctor Sending you the recommendations of Doctor's Making arrangements for your accommodation once you arrive in India.
On call consultation with your surgeon : Arranging for a tele-call with your surgeon so that you can have a detailed discussion over your treatment plan.
Continuous Assistance and Support : Our Executive will continuously stay in touch with you and provide you with all the relevant information and process to be followed.
Travel Documents/ Visa Process: Our Executive will provide you with all the information required for you to travel to India i.e Vaccinations, Visa documents etc.
Recommendations of Hotels and Guest House: Recommendation of hotels offering 2 star services to 5 star services for your stay in the city as per your budget and preference will be sent to you so that you can choose accordingly.
Ground Transportation : Arranging for your Airport pick up and Drop.
Regional Translators : Availabilty of regional translators 24*7 so that language should not be a barrier in your medical trip to India.
Arranging for a local contact number.
Follow Up: Our executive will constantly stay in touch with us even after you land in your country.
Why should you choose India Cardiac Surgery Team for your TAVI/TAVR treatment in India?
Your Medical Trip is planned by a well experienced and qualified team of Relationship Executives.
Patient reports are viewed by Medical Experts who are highly reputed, Qualified and have an experience of 20 years and above to their credit.
Your safety and care is the top most priority for us in planning your medical trip.
Treatments are available for all age groups from and infant to a elderly person.
Different types of treatment offered under 1 shelter, so that apart from your specific surgery you could also seek treatment for any other ailment as well .
Discounted surgery packages and Health plans for you.
Recommendations of surgeons who are USA and UK qualified with International exposure.
Recommendations of only NABH accredited Hospitals with well equipped and Hi-tech technology labs and well qualified employees
Listen to the Voices of Our Happy Patients
Which Are The 20 Most Recommended Hospitals For TAVI/TAVR Treatment In India?
APOLLO HOSPITAL,CHENNAI
FORTIS ESCORTS HEART INSTITUTE AND RESEARCH CENTRE,DELHI
INDRAPRASTHA APOLLO HOSPITAL, DELHI
MAX SUPER SPECIALITY HOSPITAL, SAKET
THE WOCKHARDT HOSPITAL, MUMBAI CENTRAL
MANIPAL HOSPITAL, BANGALORE
ADITYA BIRLA MEMORIAL HOSPITAL, PUNE
KOKILABEN AMBANI HOSPITAL,MUMBAI
APOLLO HOSPITAL, CHENNAI
FORTIS MALAR HOSPITAL, CHENNAI
FORTIS HOSPITAL MUMBAI
GLOBAL HOSPITAL, CHENNAI
ARTEMIS HOSPITAL, GURGAON
MEDANTA – THE MEDICITY, GURGAON
BLK SUPER SPECIALITY HOSPITAL, CHENNAI
NARAYANA HOSPITAL ,BANGALORE
CARE HOSPITALS, HYDERABAD
ASIAN HEART INSTITUTE,MUMBAI
NANAVATI HOSPITAL,MUMBAI
BILLROTH HOSPITAL, CHENNAI
Who Are The Top 20 Surgeons Performing TAVI/TAVR Surgery In India?
DR. K M MANDANA
DR. MADAN KUMAR K
DR. K R BALAKRISNAN
DR. BASHI V VELAYUDHAN
DR. Z S MEHARWAL
DR. RAJU VYAS
DR. MANOJ P NAIR
DR. Y K MISHRA
DR. BHABA NANDA DAS
DR. T. S. KLER
DR. PAWAN ZUTSHI
DR. RITESH SANGURI
DR. SATBIR SINGH
DR. SHILPI MOHAN
DR. NARESH TREHAN
DR. RAJESH SHARMA
DR. ALI ZAMIR KHAN
DR. NANDKISHORE KAPADIA
DR. AMAR NATH GHOSH
DR. SARAJIT KUMAR DAS
Get a free consultation with our Surgeon for your TAVI/TAVR Surgery
Kindly fill up the form for a free consultation with our surgeons
After thorough analysis of the reports and medical history, you will be provided with the advised clinical opinion and suggestions regarding your TAVI/TAVR Surgery from our experts.
Tags
TAVI/TAVR Procedure In India, Trans Aortic Valve Implantation (TAVI) Or Trans Catheter Aortic Valve Replacement (TAVR) Cost In India, Top Cardiologists In India, TAVR Surgery In India Cost, Transcatheter Aortic Valve Implantation TAVI Cost in India, TAVR Surgeons For Aortic Valve Replacement, Most Recommended Hospitals For TAVI/TAVR Treatment In India, TOP Surgeons Performing TAVI/TAVR Surgery at best hospitals in India, Transcatheter Aortic Valve Implantation TAVI Surgeons & Hospitals In India, TAVR Treatment Experience in India