Cost of Placing Ventricular Assist Device or Total Artificial Heart with Top Hospitals and Top Surgeons in India
The cost of the VAD or TAH Surgery in India is typically a fraction of the cost for the same procedure and care in the US and other developed countries.
The cost can vary as per the diagnosis and conditions of the patients along with the facilities availed.
And if you compare the same with developed nations, the cost for these treatments is often the double than what you find in India.
The list of various factors deciding the price of VAD or TAH in India is as follows :
Treatment Method
Type of Surgery
Other treatments required in conjunction with VAD or TAH
Investigations & evaluation required
Hospital fee
Room Category
The variation in the above cost is dependent on the following
Type of the hospital (Government/Trust/Private).
Use of insurance, type of insurance or self paid.
Accreditation of the facility
Expertise, seniority, reputation and brand value of the surgeon/doctor.
Are you looking for affordable cost for placing VAD or TAH in Top Hospitals of India?
Please enquire with us, Get a "No Obligation Quote"
Check out the Patient Testimonial, where the patient shares about their success stories from treatments through India Cardiac Surgery Consultants.
What is an Artificial Heart?
An artificial heart is a device which is used to replace the original organ. It is mostly done to bridge the time to heart transplantation and sometimes it permanently replaces the heart in case if the heart transplant is not possible.
What is Ventricular Assist Device (VAD)?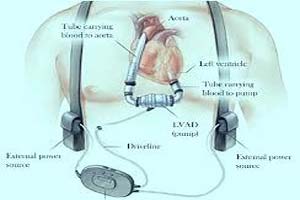 A ventricular assist device (VAD) is a mechanical pump which is used to support heart function and blood flow in people with weakened hearts.
This device takes blood from a lower chamber of the heart and helps to pump it to the vital organs of the body, just as a healthy heart would.
How Does a VAD Help to support the Heart?
A VAD helps to support your heart.
While you're waiting for a heart transplant.
During or after surgery, until your heart recovers.
If you are not eligible for a heart transplant.
How does a VAD function?
A VAD has several basic parts including a small tube that carries blood out of your heart into a pump and another tube carrying a blood from the pump to your blood vessels, delivering the blood into your body.
It has a power source which is connected to a control unit to monitor the functions of the VAD. It provides warnings if the power is low or the device aren't working properly.
In the past, most VADs were used for people who had end-stage heart failure, but now they can also help people who have early stages of heart failure.
What are Total Artificial Hearts (TAHs)?
A total artificial heart (TAH) is a device that replaces the two lower chambers of the heart that may be not working due to end-stage heart failure.
You may need a TAH for one of the two reasons :
To keep you alive while you are waiting for a heart transplant
If you are not eligible for a heart transplant, but you have end-stage heart failure in both the ventricles.
How does a TAH function?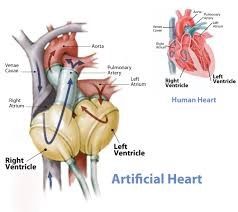 The TAH is attached to your atria, heart's upper chambers. In between the TAH and the atria, the mechanical valves work like the heart's own valves by controlling the flow of blood in the heart.
A TAH usually extends life for months beyond what is expected with the end-stage heart failure. It also helped to improve your quality of life.
How is a candidate suitable for placing VADs ?
VADs considered medically appropriate only if the following criteria are met:
VAD's are placed In individuals with end-stage heart failure and all of the following:
Diagnosis of severe congestive heart failure and approved heart transplant candidate.
Have an imminent risk of dying before the donor heart procurement.
Meets the selection criteria for heart transplant.
Receives an optimal medical management.
Presence of other clinically significant conditions, including but not limited to, respiratory failure, irreversible hepatic or renal dysfunction, systemic infection, unresolved recent malignancy limiting your life expectancy, coagulation disorders and uncorrected valvular disease.
How is a candidate suitable for TAH?
Patient with imminent risk of death due to biventricular failure with no other appropriate medical or surgical options.
Meets the selection criteria or an approved candidate for the heart transplant.
Absence of the coagulation disorders.
Has sufficient space in the chest area vacated by the natural ventricles to support the TAH.
Is ineligible for other univentricular or biventricular devices.
Survival is not expected until a donor heart can be obtained.
Absence of other clinically significant conditions, including but not limited to, respiratory failure, systematic function, renal dysfunction and unresolved recent malignancy limiting the life expectancy.
If you are ready to proceed for discussion and planning for treatment in India, you can fill the contact form below and we will get in touch with you very soon. Please feel free to ask all your queries & concerns.
What to expect Before VAD or TAH?
You'll spend some time in the hospital preparing for the surgery and will learn about the VAD and how to live with it.
You'll spend some time with your surgeon, cardiologist and nurses to make sure you have all the information regarding VAD.
You can ask to see what the VAD looks like and how it will be attached inside your body.
Your doctor will ensure that your body is strong enough for the surgery, if you are weak, then you may need extra nutrition through a feeding tube before surgery.
Before the surgery, you'll be given medicine to make you sleep, so that you don't feel any pain.
You'll be asked to undergo the following tests before surgery :

Chest X-ray
Blood tests
Echocardiography
Electrocardiogram (EKG)
What to expect During Ventricular Assist Device Surgery?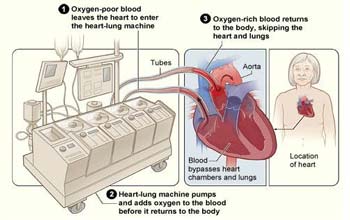 Ventricular Assist Device Surgery takes between 4 to 6 hours and the process is similar to other types of open heart surgery.
Team of Ventricular Assist Device Surgery includes surgeons, surgical nurses, anesthesiologists and perfusionists.
Your vital signs like blood pressure, heartbeat, breathing and oxygen level will be checked throughout the surgery.
A breathing tube will be guided down your throat into your lungs and this tube will be connected to a ventilator.
The surgeon will make a cut down the center of your chest, then cut your breastbone and open the rib cage to reach your heart.
You'll be given medicine to stop your heart during surgery. A heart-lung bypass machine will keep the oxygen-rich blood moving your body during the surgery.
Once the surgeon has properly attached the VAD, the heart-lung machine is switched off and the VAD starts working by taking over the pumping function of your heart.
What to expect during TAH?
TAH surgery is complex and may take about 5 to 9 hours. It is performed by experts and assistants.
Team for TAH surgery includes the surgeons, surgical nurses, anesthesiologists, perfusionists and engineers who are trained to assemble TAH and ensure that it is working properly.
During the surgery, the anesthesiologist checks your blood pressure, heartbeat, oxygen levels and breathing.
A breathing tube is connected to the ventilator and it is placed in the windpipe through your throat.
You'll be given medicine during the surgery and a heart-lung machine will help the oxygen-rich blood moving your body throughout the surgery.
The surgeon's will remove the ventricles of your heart and attach the TAH to the upper chambers of the heart.
When everything is properly attached, the heart-lung bypass machine is switched off and the TAH starts pumping.
What to expect After VAD or TAH?
The recovery time after the ventricular assist device surgery (VAD) or total artificial hearts (TAH) depends a lot on your condition before the surgery. If you had a severe heart disease before getting VAD or TAH, then your body might be weak and the lungs may not work well, so you'll be on a ventilator. You may need to continue getting the nutrition through a feeding tube.
When you wake up after the surgery, you'll be in the intensive care unit (ICU) and an intravenous tube will provide you with fluid and nutrition. You'll have a tube in your bladder to drain urine and tubes to drain blood and fluid from your chest and heart.
Depending on how quickly your body recovers, you'll move to a regular hospital room. Nurses having experience with VADs or TAHs will take care of you. Physical therapists will help you gain your strength through a gradual increase in activity. Also, you'll learn about how to take care of your VAD or TAH device at home.
You'll need to have regular checkups with your health care team to check your progress and ensure that the VAD or TAH is working well. Your healthcare team will explain you the warning signs you need to watch for. You'll be recommended cardiac rehabilitation, which is a medically supervised program that helps improving healthcare and well-being of people with heart problems. Rehab program includes exercises, education on heart healthy living and counseling to reduce stress and help you return to a more active life.
You'll need to take medicines to prevent the dangerous blood clots and infections. Make sure to take all your medicines as per the prescription and report any side effects to your doctor.
Getting a VAD or TAH may cause anxiety, fear and stress. All these feelings are normal for someone going through a major heart surgery. Talk about it with your healthcare team. Having the support of your family and friends can also help relieve stress and anxiety as they play an important role in caring for you after you go home.
Why Choose India for the Ventricular Assist Device Surgery or Total Artificial Hearts?
India has become a Mecca for various heart disease treatments and surgeries for the international patients coming from all across the globe.
The availability of advance healthcare technologies provided by the healthcare facilities in India is at par with that provided by any advanced country, thereby delivering similar or even better results.
Indian hospitals adhere to the highest quality standards of healthcare by competent cardiologists with priority treatment.
Most of the surgeons in India have been graduated from the top medical schools and universities in the US, Europe and Australia.
They have vast overseas experience and training from the best hospitals. The international patients can therefore avail to the finest certified medical professionals, board certified doctors and physicians from the JCI-JCAHO accredited, government registered and approved private medical healthcare facilities in India for the surgery to place the ventricular assist device or affordable total artificial heart surgery in India.
Thus, Affordable VAD cost in India are offered to the overseas patients seeking a cost-effective treatment in India.
Mr. Tem Mbeum from Cameroon shares his experience of getting VAD Artificial Heart Transplant Surgery done in India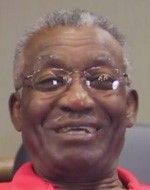 Mr. Tem Mbeum from Cameroon
I have undergone an artificial heart transplant through the expert hands of doctors at India cardiac surgery group. It helped me to increase the quality of my life as there was some infection detected in my ventricular arteries which was causing more complications in the heart region. I am grateful to the doctors and their team for such a fantastic treatment and experience. They are supportive and provided personal guidance for the treatment. Though the treatment is high class, the cost involved in the surgical treatment is very low. It helped me in planning a disease free life.
How many patients underwent VAD or TAH Surgery in India in the last 5 years?
In recent years, India has emerged as a medical hub for patients looking for affordable, accessible and efficient low cost VAD or TAH Surgery
This emergence is primarily due to the development of state-of-the-art private and public sector healthcare facilities, medical insurance and the ease of access to quality healthcare services. An average increase of 15 to 20 percent annually has been observed in the number of patients in the last 5 years.
Here are the approximate figures of the patients who underwent VAD or TAH Surgery in the last 5 years in India :
Planning Affordable VAD or TAH Surgery in India is an easy process.
Our Hospitals Network and Surgery Group are available in 15 cities of India for our patients to access. Kindly fill up the form for a free opinion from our expert cardiology team. You will be provided with an analysis and recommendations for your surgery.NO CHARGES LEVIED.
Special ALL SERVICES INCLUSIVE Packages available for INTERNATIONAL PATIENTS
What are the special services provided by us to our international patients?
Intricate planning from your appointment with the Doctor to your accommodation in the city post surgery.
Arranging for call conferences with your respective surgeons so that all of your concerns can be addressed.
Expat Services
Continuous assistance of our executive on every step.
Providing you with the guidelines for the Visa Application Process so that the process could be hassle free.
Sending recommendations of Hotels ranging from 2 star services to 5 star services for your stay in the city as per your budget and preference.
Arranging for Ground Transportation : Your Airport pick up and Drop.
Regional Translators available 24*7 for your assistance.
Assistance in arranging a local sim card so that you could be in constant touch with us.
Following up with the patient until they have landed back to their country safely.
Following up with patient for post op care
How to plan your medical trip for VAD or TAH surgery with India Cardiac Surgery Team in 9 easy steps?
Send us your query and medical reports
Send us the related concerns and questions related to treatment
Get the advised opinion and treatment plan from us within 48 hours from multiple hospitals
Choose your preferred hospital and clear your concerns if you have any
We will assist you with medical VISA, Vaccination, FRRO, Travel, Accommodation and Logistic Process
Arrival arrangements will be done for your pick up at the airport based on your itinerary
Treatment will start at the hospital as planned
Once the treatment is done, you can fly back
Post treatment follow up and consultation will be done by us via email, phone, skype
Listen to the Voices of Our Happy Patients
Who Are The Top 20 Surgeons Performing VAD or TAH Surgery In India?
DR BASHI V VELAYUDHAN
DR Z S MEHARWAL
DR RAJU VYAS
DR MANOJ P NAIR
DR Y K MISHRA
DR BHABA NANDA DAS
DR. T. S. KLER
DR. PAWAN ZUTSHI
DR. RITESH SANGURI
DR. SATBIR SINGH

DR. SHILPI MOHAN
DR. NARESH TREHAN
DR. RAJESH SHARMA
DR. ALI ZAMIR KHAN
DR NANDKISHORE KAPADIA
DR AMAR NATH GHOSH
DR SARAJIT KUMAR DAS
DR K M MANDANA
DR MADAN KUMAR K
DR K R BALAKRISNAN
Which Are The Top 20 Hospitals Where VAD or TAH Surgery Is Performed?
FORTIS MEMORIAL RESEARCH INSTITUTE GURGAON.
INDRAPRASTHA APOLLO HOSPITAL, NEW DELHI
BLK SUPER SPECIALITY HOSPITAL, NEW DELHI
GLOBAL HOSPITAL,CHENNAI
SHARDA HOSPITAL,DELHI
PARAS HOSPITAL, GURGAON
NANAVATI HOSPITAL,MUMBAI
MANIPAL HOSPITAL,BANGALORE
THE WOCKHARDT HEART INSTITUTE, MUMBAI
NARAYANA HOSPITAL,BANGALORE.

RUBY HALL, PUNE
FORTIS HOSPITAL, KOLKATA
FORTIS ESCORTS HOSPITAL, NEW DELHI
ASIAN HEART INSTITUTE,MUMBAI
APOLLO HOSPITAL,CHENNAI
FORTIS ESCORTS HOSPITAL, BANGALORE
ARTEMIS HOSPITAL, GURGAON
MEDANTA HOSPITAL, NEW DELHI
MAX SUPER SPCIALITY HOSPITAL, NEW DELHI
CONTINENTAL INSTITUTE OF CARDIOVASCULAR SCIENCES, HYDERABAD
If you are looking for VAD or TAH Surgery, kindly fill up the form for a free consultation with our surgeons.
After thorough analysis of the reports and medical history, you will be provided with the advised clinical opinion and suggestions regarding your VAD or TAH Surgery from our experts.
Related Pages
Tags
Cost of Ventricular Assist Device Surgery India, Low Cost Artificial Heart Transplant in India, VAD cost in India, India, Left, Left Ventricular Assist Device (LVAD) Surgery For Heart Failure Patients, Best Surgeons For Left Ventricular Assist Device Surgery In India, Best Surgeons For Left Ventricular Assist Device Procedure In India, Best Surgeons For VAD Procedure In India, Best Surgeons For LVAD Procedure In India, India's Best Surgeons For VAD / TAH Procedure, Top Cardiac Surgeons For Left Ventricular Assist Device (LVAD), VAD Artificial Heart Transplant Surgery Experience in India