India Cardiac Surgery Site is associated with best and highly experienced team of pediatric cardiac surgeons & cardiologists to deliver the perfect treatment and recuperative plan. Before the surgery, we keep the patient and their families educated with every fact involved in the surgery process and maintain utmost transparency about the procedure, facilities and the associated expenses. We provide quality services and also assist with arrangements, (while) keeping the concerns of the international patients in mind, providing you the utmost care and professionalism.
Congenital Patent Ductus Arteriosus (PDA) Overview:
Congenital Patent Ductus Arteriosus (PDA) is a persistent opening between two major blood vessels leading from the heart. PDA is a type of congenital heart disease. Every baby is born with the ductus arteriosus, an opening which is a normal part of the baby's circulatory system before birth. After the baby is born, the opening is no longer needed and it usually closes within the first few days of life.
A small PDA often may not be of concern as it goes away with time, however in case of a large PDA, Surgery in India would be the only solution because if left untreated it can allow poorly oxygenated blood to flow in the wrong direction, which in turn will cause weakening of the heart muscles resulting in heart failure or other complications as well.
Signs & Symptoms of Patent Ductus Arteriosus (PDA)
Congenital Patent Ductus Arteriosus (PDA) Surgery in India review of patients indicates that symptoms may vary with the size of the defect and whether the baby is premature. It includes symptoms such as –
Rapid heart rate and easy tiring.
Poor eating that leads to poor growth / poor weight gain.
Breathlessness or fast breathing.
Sweating with ("from") exertion (such as while feeding)
Fill in the Free Consultation Form for your child's Patent Ductus Arteriosus (PDA) Surgery in India, considering if the baby tires easily while playing or breathing, is not gaining weight and is always short of breath, all of which are prominent symptoms requiring immediate attention.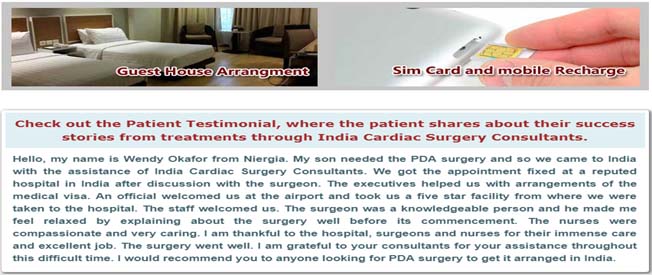 Patent Ductus Arteriosus (PDA) Diagnosis
Your baby's doctor might first suspect a Patent Ductus Arteriosus (PDA) during a regular checkup after hearing a heart murmur – an extra or unusual sound heard while listening to your baby's heart through a stethoscope. If the doctor suspects any defect in the heart, then he or she may ask you to undertake the following tests –
Echocardiogram – It is done to check the heart's valves and chambers for any heart defects and to see if the heart is pumping well.
Chest X-ray – This will help in checking the condition of the baby's heart and lungs to rule out other concerns.
Electrocardiogram (ECG) – to determine the electrical activity of the heart and diagnose heart defects or rhythm problems.
Cardiac catheterization – to rule out other congenital heart defects found during an echocardiogram or if a catheter procedure is being considered to treat a PDA.
Treatment of Patent Ductus Arteriosus (PDA)
The treatment for Patent Ductus Arteriosus (PDA) Surgery in India depends upon the age in which the person is treated. The options may include –
Careful Monitoring – Usually, a PDA in a premature baby closes on its own. And for those full-term babies, children and adults with small PDAs with ("and") no other health problems, monitoring is all that's needed.
Medications – Medications are prescribed to close a PDA which blocks the hormone like chemicals in the body that keep the PDA open. However, they don't work in full-term babies, children or adults with PDA.
Open-Heart Surgery – When medications don't work and the patient's condition deteriorates causing further complications, open-heart surgery is recommended.
How is Patent Ductus Arteriosus Surgery performed?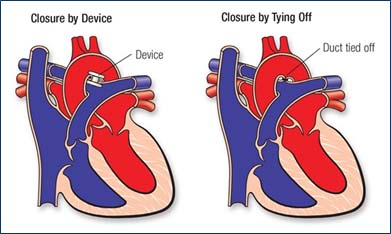 The surgical repair, also called PDA Ligation Surgery, is performed under general anesthesia. The PDA surgery procedure involves closing the open PDA to prevent the surplus blood from entering the child's lungs. Rest assured, the child will be kept as comfortable as possible with medications to relieve any pain or anxiety.
Patent Ductus Arteriosus (PDA): Prevention
There's no sure way to prevent from having a baby with PDA, but all efforts can be extended to have a healthy pregnancy. Here are some steps which you can undertake in this regard –
Seek early prenatal care beforehand if you are planning to have a baby.
Reduce Stress.
Eat a healthy diet.
Exercise regularly.
Avoid risks such as alcohol, cigarettes and illegal drugs.
Avoid infections.
Keep diabetes under control.
If you have a family history of heart defects or other genetic disorders, kindly visit the doctor before becoming pregnant.
Why choose Patent Ductus Arteriosus (PDA) Surgery in India?
India is becoming one of the most sought out destination for Pediatric Cardiac Surgery. It has become renowned for dealing with complex heart problems especially heart surgeries on children and newborn with complex heart problems. India has shown remarkable growth in paediatric cardiac surgery and cardiology. Indian doctors are not only leading practitioners in the medicine field across the world, but also many patients across the world are coming to India for better treatment.
Patent Ductus Arteriosus (PDA) Surgery in India is provided by top notch hospitals in the country. Most of the Indian hospitals have top quality surgeons and they have a proven track record to highlight their claim and offering the best PDA surgery in India. India has state-of-the-art equipment and the latest procedures available in cardiac medicine. India is known for its integrated world-class healthcare system, leveraging best medical practices backed by cutting-edge technology, specialized clinics, comprehensive services, internationally renowned private hospitals offering utmost level of integrated Heart Care and Surgery Treatment to international patients.
Why Choose Us for your Child's Cardiac Surgery in India?

India Cardiac Surgery Site is a network of cardiac surgeons, cardiologists, and hospitals of India. We take care of heart health needs of ("for") both children and adults. We are a leader in the field of cardiac surgeries in India. Our website provides you the latest information about various cardiac surgeries available in India.
Our hospitals have advanced equipment that can aid in accurate diagnosis and comprehensive care of the patient during their surgeries in India. Our patient care is empathetic. We strive to minimize patient discomfort and maximize patient satisfaction when they are dealing with India Cardiac Surgery Site.
We want our patients to take full advantage of the services we offer.
Hospitals have the most advanced equipment
Our surgeons and cardiologists are on top of the research in cardiology and surgeries
Empathetic Patient Care
Affordable care
Read our Testimonials to hear what patients who had their surgeries done with India Cardiac Surgery Site share their experience.
Contact Us with any questions you may have. We are here to help you access the world's best in class cardiac care.
Tags
Patient Ductus Arteriosus Diagnosis, PDA Success Rate, PDA In Adults, PDA Treatment Cost, PDA Device Cost India, PDA Surgery Procedure, Best Cardiac Surgery Hospitals in India, Patient Ductus Arteriosus Treatment India, Low Cost PDA Surgery In India, Best PDA Surgery In India, PDA Closure Surgery In India, PDA Surgery In India, Patent Ductus Arteriosus Surgery In India, PDA Ligation Surgery